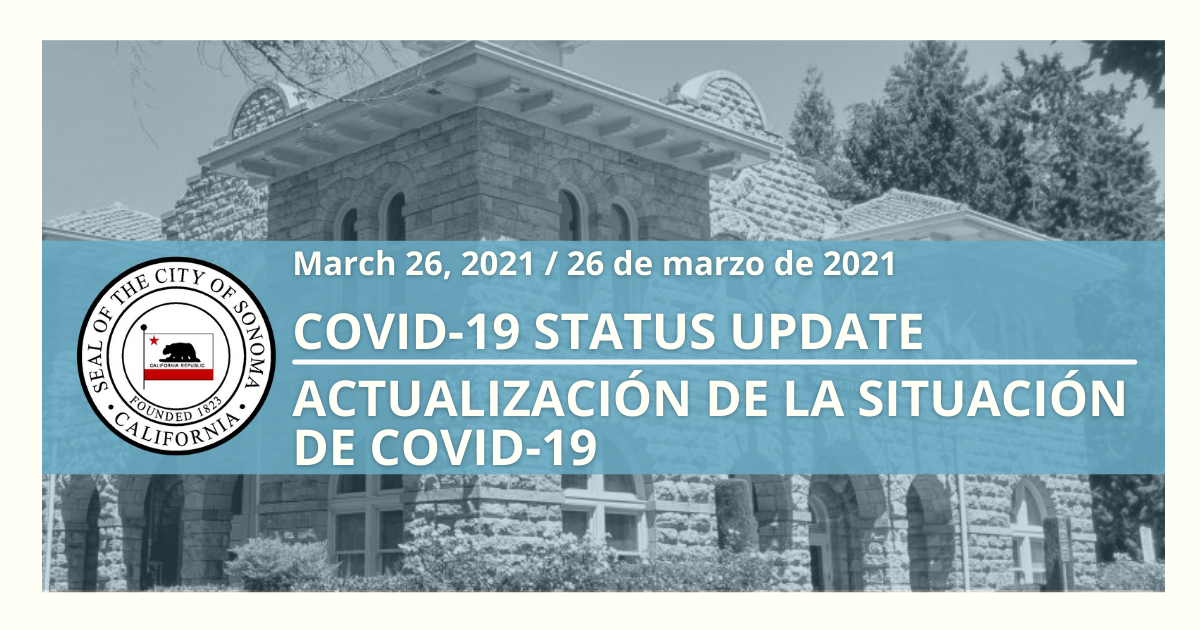 Para traducir esta página, desplácese hasta el final, haga clic en "Translate", y seleccione su idioma.
Sonoma County reopening metrics continue to improve this week and we remain in the "red" tier in the state's framework.  As of March 24th, the County has 5.6 new daily cases per 100,000 (down from 6.6 last week), a test positivity rate of 2.3 percent (down from 2.5 percent) and an equity metric positivity rate of 3.5 (down from 3.9 percent).
Want to help Sonoma County get into an even less restrictive tier? Keep up the good work by continuing to follow the mitigation measures we are all now so familiar with – wear your mask, keep your distance, practice good hand hygiene, limit gatherings and consider getting tested for COVID-19.
Vaccine Eligibility to Expand to all Adults 16+ Next Month
Gov. Gavin Newsom announced Thursday that vaccine eligibility will expand to include anyone 50 years or older beginning April 1, 2021, and anyone 16 years and older on April 15, 2021. While this is a promising and welcome development, state officials advise that it will likely take months to vaccinate all willing Californians. A significant increase in vaccine supply is anticipated to arrive in mid-April.
Keep Sonoma Safe – Get Tested!
County health officials recommend that everyone who goes into public – even if they don't have any symptoms and/or have been vaccinated for COVID-19 – get tested at least once per month and those who regularly interact with the public get tested twice each month. The County of Sonoma continues to increase access to free COVID-19 testing, find options in Sonoma Valley below or visit socoemergency.org/test for a complete list.
Pop Up Testing in Sonoma Valley This Week
7 AM – 7 PM (11:00 AM – 7:00 PM Beginning April 1st)
Weekly LHI Mobile Unit at Hanna Boys Center
The LHI Mobile COVID-19 Testing Unit has relocated to Hanna Boys Center 7 am-7 pm 2-3 days/week. The unit will be there today (3/26) through Sunday (3/28) and returns next week Thursday (4/1)  and Friday (4/2). PLEASE NOTE: The hours for the LHI Mobile Unit will be from 11:00 AM – 7:00 PM beginning in April. Registration for the self-administered nasal swap test is required, simply:
Register and make an appointment online at https://lhi.care/covidtesting or by calling (888) 634-1123
Arrive shortly before your appointment with your mask and wait in line, have your patient ID number handy!
Check-in with your patient ID number. You will then be handed the testing materials and directed to a window on the exterior of the bus.
A health care practitioner provides you with instructions on administering the test (swap the inside of each nasal cavity 5 times) and return through the window.
*NEW* 9:30 AM – 11:30 AM on Fridays at Sonoma Valley Church of the Nazarene
Weekly testing at Sonoma Valley Church of the Nazarene on Fridays from 9:30 AM – 11:30 AM. Appointments can be made online at https://sonomacounty.fullslate.com/locations/14818. Click here to watch a Spanish language tutorial on how to make an appointment online.
2 PM – 4 PM on Wednesdays at St. Leo's
Sonoma Valley Community Health Center offers weekly testing at St. Leo's Catholic Church on Wednesdays from 2 PM – 4 PM. Appointments can be made online at https://sonomacounty.fullslate.com/locations/12058. Click here to watch a Spanish language tutorial on how to make an appointment online.
10 AM – 4 PM on Mondays at St. Leo's – Curative
The County Health Department recommends that only those with symptoms of COVID-19 use this option at this time. These tests are self-administered oral tests. Watch Curative's instructional video in English and Spanish to find out what to expect. Appointments can be made up to 4 days in advance on their website.
Vaccine Distribution
This week, Sonoma County has now surpassed 250,000 vaccine doses administered as of Wednesday, 166,708 Sonoma County residents have received at least one dose of the vaccine, which is equal to about 41 percent of the county's adult (16+) population.
This month, Sonoma County's vaccination campaign is set to begin a phased-in transition to a third-party administrator, Blue Shield, as part of the State's effort to help optimize and accelerate COVID-19 vaccine allocation and distribution throughout the state. Once Sonoma County is switched over to the new system of administering vaccinations, all vaccination appointments will be made through the state's My Turn website. All residents are encouraged to register to be notified when they are eligible or when appointments open up at https://myturn.ca.gov/.
The County's vaccine distribution website, SoCoEmergency.org/vaccine is continually updated, giving the public detailed information about the vaccination rollout, safety and how the vaccine is being disseminated in Sonoma County.