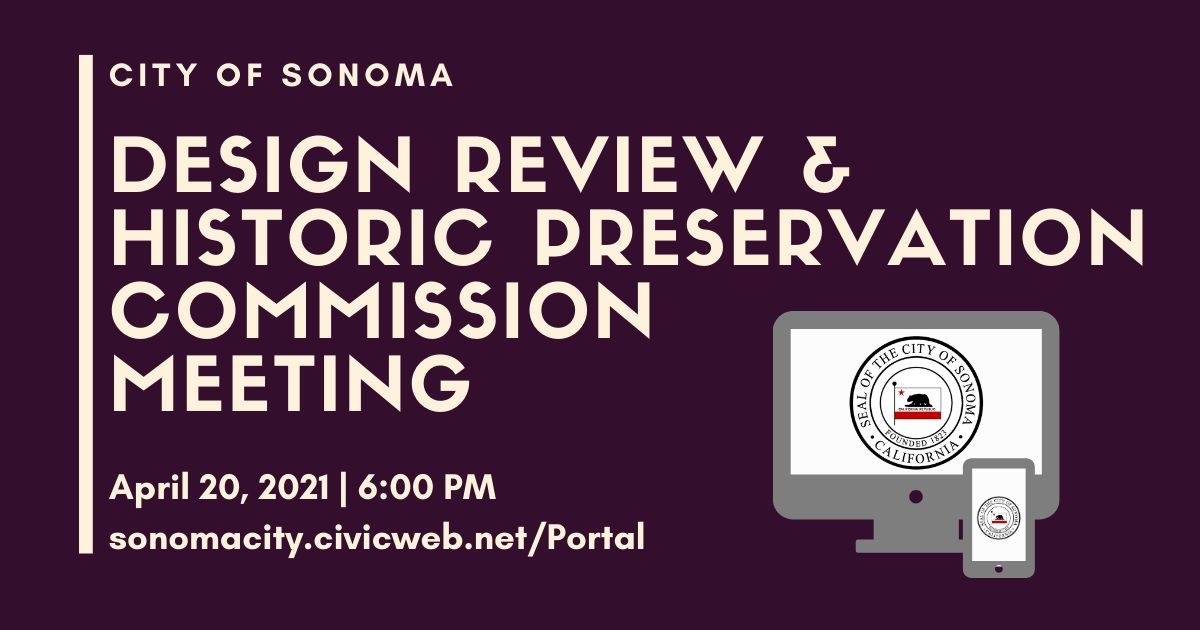 A regular meeting of the Design Review & Historic Preservation Commission will be held on Tuesday, April 20th at 6:00 pm. View the full agenda to view items on the consent calendar and staff reports our CivicWeb Portal. The items to be considered on the regular calendar are:
Sign Application for a new sign for a Commercial property (Rite Aid) located at the Maxwell Village Shopping Center
A sign permit for 7 Branches
An application for Design Review and Sign Review for a bank (Union Bank)
Recommend to the Planning Commission the approval of a Design Review application of to add 11 new guestrooms in five new infill buildings within the existing MacArthur Place Hotel and Spa property
Design Review and Landscape Plan application to remove and replace the current swimming pool, landscape and deck areas with a new pool and outdoor deck at MacArthur Place Hotel and Spa
We want to hear from you!
The public is encouraged to submit comments by e-mail* at publiccomment@sonomacity.org or by attending the virtual meeting on April 20th and speaking during the public comment period for the agenda item. Find out how to participate in virtual meetings here.
Keep In Touch!
To receive future meeting notifications via email, please subscribe on our CivicWeb portal.
* Per the City's standard practice, any comments received prior to the commencement of the meeting will be uploaded to the public correspondence folder on the City's CivicWeb Portal and available for review by the public and the Committee. It will not be read during the meeting.