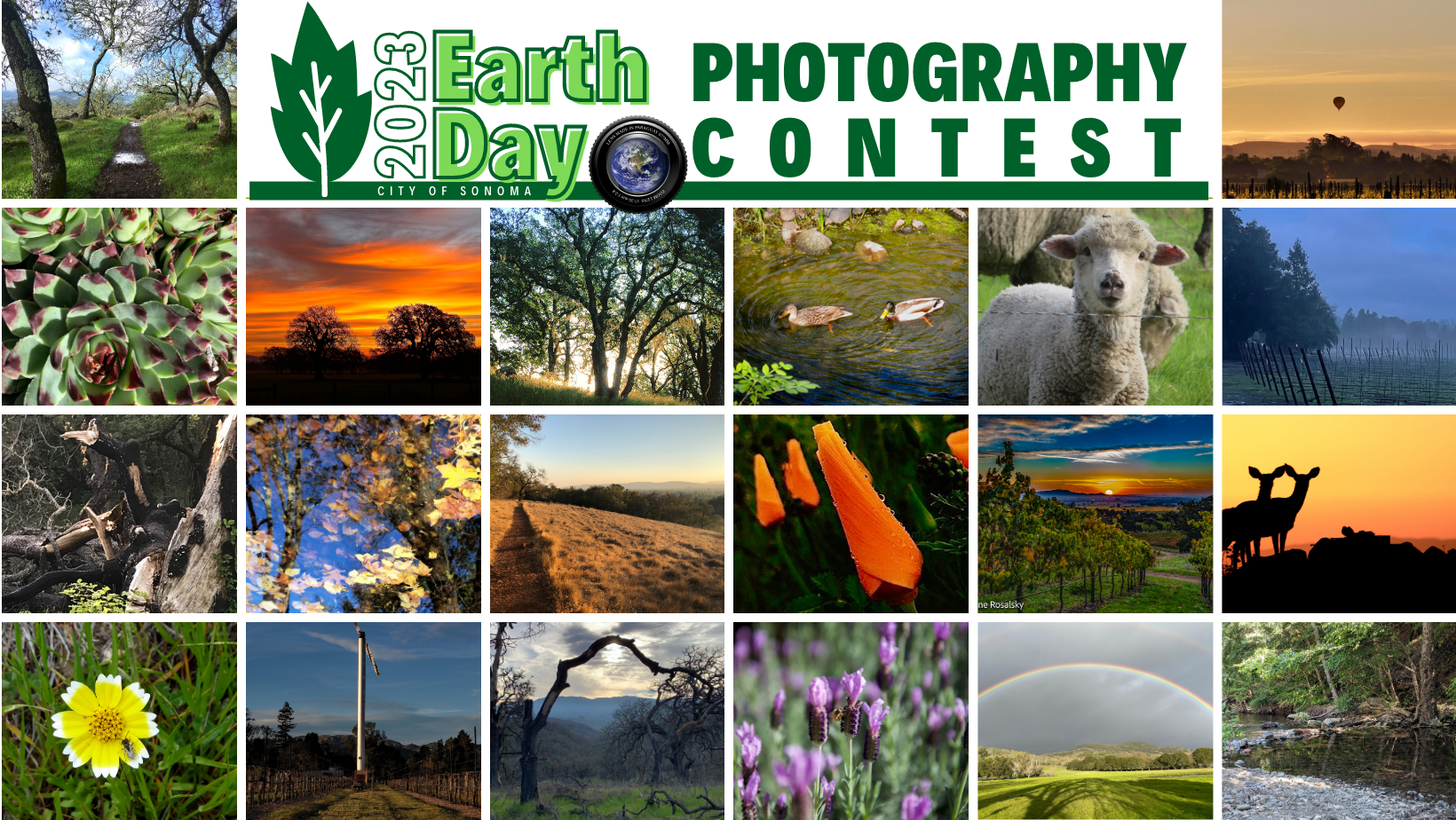 Celebrate mother nature and all its wonders in the 3rd Annual City of Sonoma  Earth Day Photo Contest. This year's photography contest theme is Park Exploration. Submit your photo of a local, Sonoma Valley park or publically accessible open space by April 10th. All ages are welcome to enter, and one winner from each of the three age categories will be selected. No professional camera is required, smartphone photos are welcome and encouraged.
Explore our local parks!  Find a list of area parks and open spaces in our online parks & recreation directory.
Submissions are open March 10 – April 10
Online Exhibition and Voting April 12 – 19
Winners announced on Earth Day, April 22
The Earth Day Photo Contest Winners Recognition at Opening Night of the Tuesday Night Farmers Market on May 3rd.
2023 Submission Guidelines
Snap a photo of your favorite view, spot, plants, or creatures in or from a Sonoma Valley park, preserve, or open space — Be Creative!
Submit your photo* by 11:59 PM on Monday, April 10th
Only one photo per person per age category can be submitted.

12 and under
13 – 20
21 and over

Submit your photo using the online form
Photos must be in jpg or png format and a maximum of 25MB.
*Minimal editing/filters, please
The City of Sonoma reserves the right to exclude works from the contest that are not within the theme parameters or do not meet requirements. All art is subject to approval. No nudity, political statements, or images that are too graphic or explicit will be accepted. This is an art contest for All-Ages.
Photos must be taken of or from a Sonoma Valley park, preserve, or publically accessible open space. For this purpose, "Sonoma Valley" is generally defined as being North of San Pablo Bay at Sears Point, East of the Sonoma Mountain Range, South of Melita Road & Hwy 12 and West of the Mayacamas Mountain Range.
Photos will be on display on this page (sonomacity.org/earth-day-photo-contest) and may be used in future Earth Day and Earth Action Week promotions. Voting will take place from April 12 – 19, 2023. One winner from each age group will be notified on Earth Day, April 22, 2023.