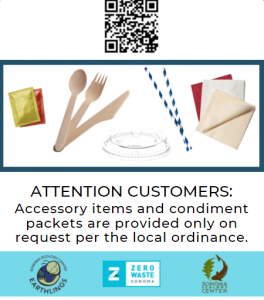 In support of Sonoma's new ordinance designed to reduce single-use plastics and non-recyclable food packaging, the City is partnering with the Sonoma Ecology Center's Earthlings Club to distribute education materials to area restaurants and grocery stores. One of the ordinance's requirements is to only provide non-recyclable items, including plastic straws, stirrers, cup lids, condiment packets, chopsticks, and napkins when a customer requests them.
Traditionally customers have been provided these items automatically even if they are not wanted. Changing this to "only upon request" is designed to help reduce unwanted items that go unused, and then sent to the landfill, by making sure they are provided only to those customers who want these items. 
Starting next week, the Earthlings will be providing signs and table tents for customers and staff to remind them of this new requirement. 
If you would like a sign or table tent for your businesses, please contact the City of Sonoma's Sustainability Coordinator at twagner@sonomacity.org. 
 Learn about the City's sustainability efforts on our Sustainability pages.