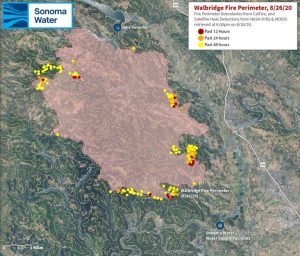 The following is a message from Sonoma Water, see more updates about the August 2020 fires and the impact on water supplies on their website.
The Walbridge Fire has stabilized, weather conditions are favorable, and Sonoma Water's water supply facilities are no longer in any immediate danger. As it has been throughout the fire emergency, our water is safe and we have experienced no issues with water quality or deliveries.
Therefore, we are lifting the Emergency Water Conservation Request that was issued at the beginning of the fires. Thank you to all our customers for saving water during the fire emergency. Your efforts are appreciated.
The response to the emergency conservation request was immediate and impressive. Together, we saved millions of gallons of water that allowed greater water storage for firefighting and emergency supplies.
But our water conservation efforts must continue. There is never enough water to waste. We have just had one of the driest rain years on record, and water conservation is something we can make part of our everyday lives.
For tips on how to save water both inside and outside of your home, please visit:
www.savingwaterpartnership.org