124th Annual Valley of the Moon Vintage Festival
10:00am - 6:00pm
Sonoma Plaza
#1 The Plaza, Sonoma, CA
---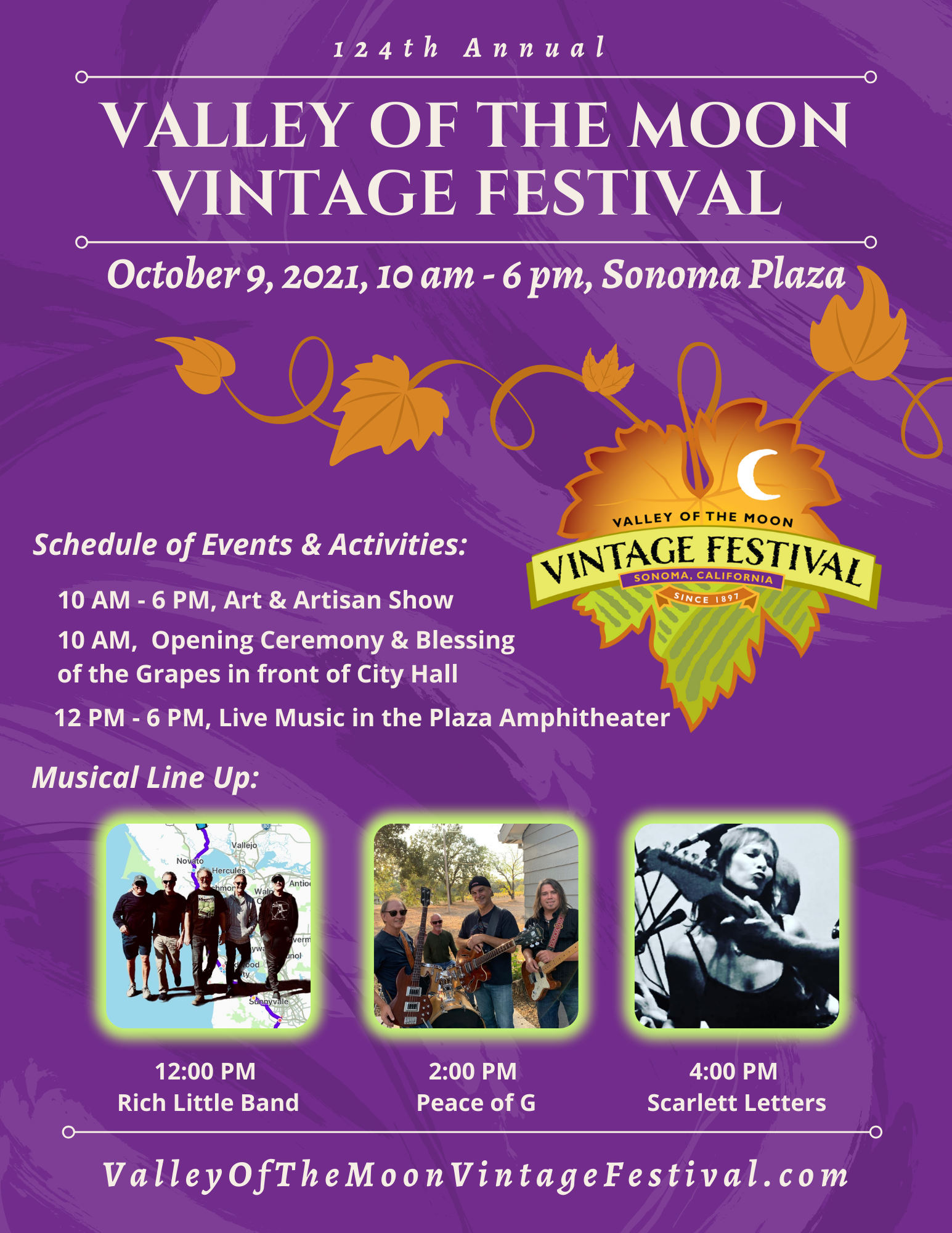 The Valley of the Moon Vintage Festival is excited to announce plans for the 124th annual event to take place on October 9,  2021!
This year's community event and entertainment schedule includes:
10 AM – 6 PM, Art & Artisan Show
10 AM, Opening Ceremony – Blessing of the Grapes in front of City Hall
12 PM – 6 PM, Live Music in the Amphitheater 

12 Noon, Rich Little Band – The Valley of the Moon Vintage Festival is excited to announce the Rich Little Band will be taking the Grinstead Amphitheater stage in the historic Sonoma Plaza at noon for a free concert. Don't miss out on the opportunity to hear Rich and the band play classic and original Rock.
2 PM, Peace of G – Peace of G is a unique and magical blend of personalities from sincere characters that love the jam and all it brings. These musicians have been playing professionally for many years and between them, they have played shows with The Starship, Los Lobos, Robin Ford, Zero, Taxi and have played the iconic Cavern Club in Liverpool.  Peace of G has a recipe of writing familiar original music, sprinkling love on the groove while singing some fun stories.  Don't miss the opportunity to go on a journey with the G.
4 PM, Scarlett Letters – Sue Albano and the Scarlett Letters will be taking the stage at 4 pm for an eclectic set of Rock 'n' Roll tunes from Fleetwood Mac, Pretenders, Rolling Stones, Creedence Clearwater, Revival, Eagles and many more!
Since 1897, the Valley of the Moon Vintage Festival has brought people together to celebrate the annual grape harvest. Learn more about the festival and find out how you can get involved at valleyofthemoonvintagefestival.com.