Bench Dedication Ceremony Honoring U.S. Poet Laureate Ada Limón
9:00am - 10:30am
Readers' Books
130 E Napa St, Sonoma, CA 95476
---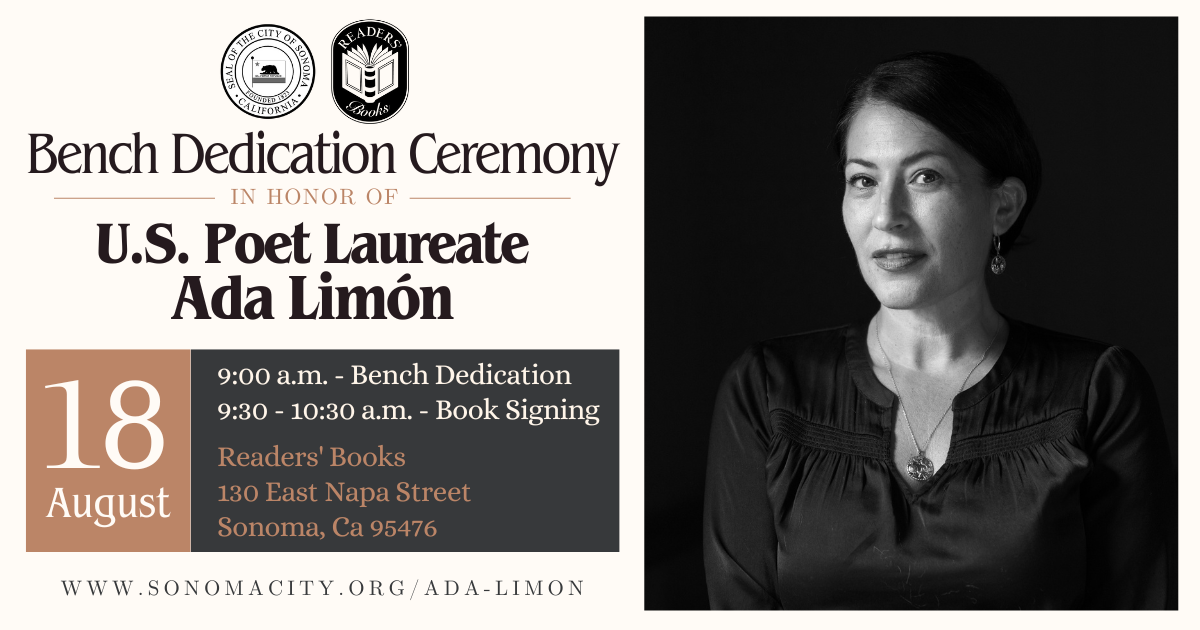 Join the City of Sonoma for a special bench dedication ceremony honoring acclaimed poet Ada Limón,  the 24th Poet Laureate of the United States. The event will occur on Friday, August 18, 2023, at 9:00 a.m. outside Readers' Books. The site of the new bench is in front of Readers' Books, an independent and local bookstore located just off the historic Sonoma Plaza where the Poet Laureate worked from 1991 to 1993 while attending Sonoma Valley High School.
The public ceremony will include speeches from City of Sonoma Mayor Sandra Lowe,  Rebecca Hermosillo on behalf of Congressman Mike Thompson, Senator Bill Dodd, Sonoma Valley High School English Teacher Alison Manchester and U.S. Poet Laureate  Ada Limón and culminate in an unveiling of a bench that bears a chosen quote from Ada Limón's distinguished body of work.  Following the dedication, there will be a book signing event with Ada Limón from 9:30 a.m. to 10:30 a.m. This is a unique opportunity to meet the esteemed poet and have your books signed by the author.
Selfies on the newly dedicated bench will also be encouraged. Don't forget to use the hashtag #SonomasPoetLaureate and tag @sonomacity on Instagram and @cityofsonoma on Facebook.
The City of Sonoma welcomes all members of the community and supporters of the arts to attend this memorable event celebrating the achievements of a remarkable poet who hails from Sonoma Valley.
To accommodate the bench dedication program, East Napa Street between First Street East and Second Street East will be closed from 8:00 a.m. – 10:00 a.m.  See the temporary road closure notice and map.