Breathe Sonoma, Cultivating Resilience
5:00pm - 8:00pm
Sonoma Plaza
#1 The Plaza, Sonoma, CA
---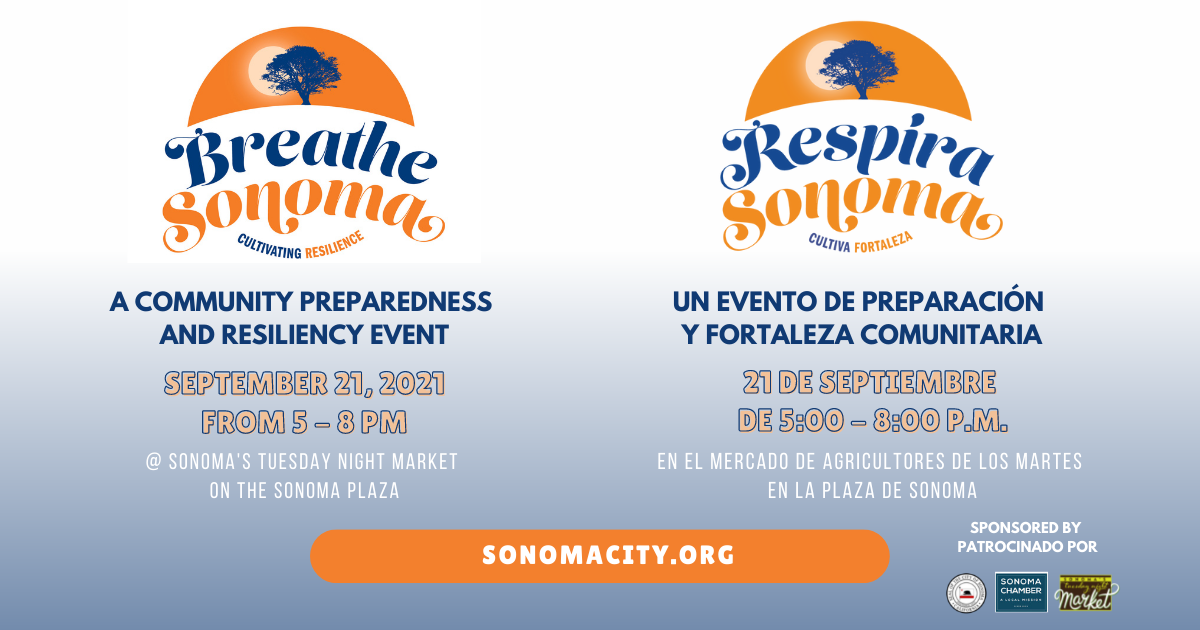 Read the full press release in English and Spanish.
As part of National Emergency Preparedness Month, the City of Sonoma (City) and Sonoma Valley Chamber of Commerce (Chamber) are sponsoring, "Breathe Sonoma" – a community preparedness and resiliency event to be held as part of the Tuesday Farmers Market on the Sonoma Plaza on September 21st from 5:00 – 8:00 p.m.  Attendees will get important emergency preparedness information from a variety of local organizations, find support and learn coping tools to better respond in case of an emergency.
A wide range of local organizations and wellness practitioners will be on-site to offer guidance on everything from how to pack a "go bag" to how people can get connected and stay supported during these trying times. The Sonoma Valley Community Health Center will be on hand to answer your questions about the COVID-19 vaccine and offering first and second doses of the Pfizer and Moderna vaccines to those who want them. In addition, Rev. Reichert will lead an interactive demonstration of simple breathing techniques that individuals can use to manage stress amid crisis moments. The demonstration will also be conducted in Spanish.
Participating organizations include:
Friends in Sonoma Helping (F.I.S.H.)
La Luz Center
Pets Lifeline Sonoma
Sonoma County Department of Emergency Management
Sonoma Ecology Center
Sonoma Police Department
Sonoma Valley Community Health Center
Sonoma Valley Fire District
Sonoma Valley Interfaith Ministerial Association
Springs "Map Your Neighborhood" group
Vintage House
and others!