Sonoma's Tuesday Farmers Market Opening Day
3:30pm - 6:30pm
Sonoma Plaza
No. 1 The Plaza, Sonoma, CA 95476
---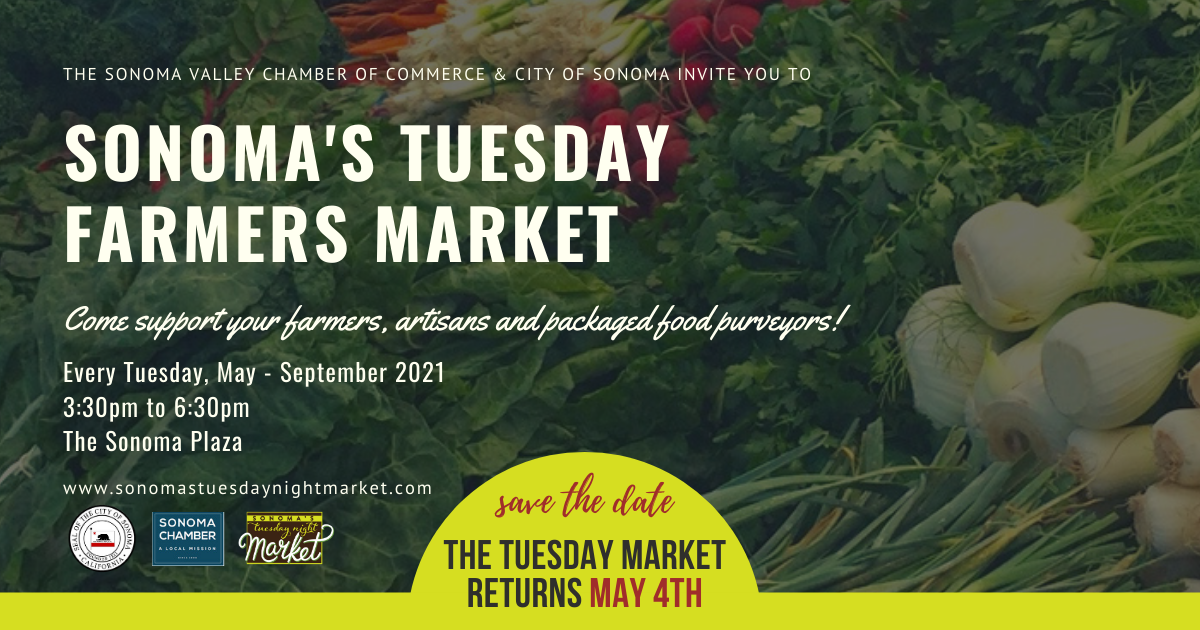 Sonoma's Tuesday Farmers Market presented by the City of Sonoma in partnership with the Sonoma Valley Chamber of Commerce returns to the plaza Tuesday, May 4th and continues every Tuesday, May – September. The market is located in the "Horseshoe" in front of Sonoma City Hall from 3:30 pm – 6:30 pm.
This year's market will continue to feature Farmers and Agricultural vendors and has expanded to include Packaged Food and Artisan Vendors.  Prepared food vendors are not yet allowed.
2021 Tuesday Market Vendors Include:
Razzle Dazzle Accessories
PoPo the Clown – Children's Entertainment
Granite Mountain Arts
Neufeld Farms
Jesus Hernandez Flowers
Triple T Ranch and Farm
R. Schletewitz Family Farmers
Mt Moriah
The Patch
Hector's Honey
Public Health & Safety Measures
Shoppers will no longer be required to enter and exit through controlled entry points and there is no requirement to show proof of vaccination or negative COVID-19 test to shop. Health and safety measures that align with the latest Public Health practices, including wearing a facial covering within the market shopping zone, remain in place.  We ask that you please follow these guidelines to keep our market safe:
➡️  Stay home if you are sick.
➡️  Wear your face covering at all times while in the designated Market shopping area.
➡️  Practice social distancing by maintaining a 6-foot distance from others.
➡️  Sanitize your hands before entering the market. Hand sanitizer will be provided.
➡️  Do not handle produce or products, and food sampling is not allowed. Vendors must bag purchases for the customer.
Learn more at www.sonomastuesdaynightmarket.com.