Modified due to Heat – Sonoma's Tuesday Night Market 2022
5:00pm - 8:00pm
Sonoma Plaza
#1 The Plaza, Sonoma, CA
---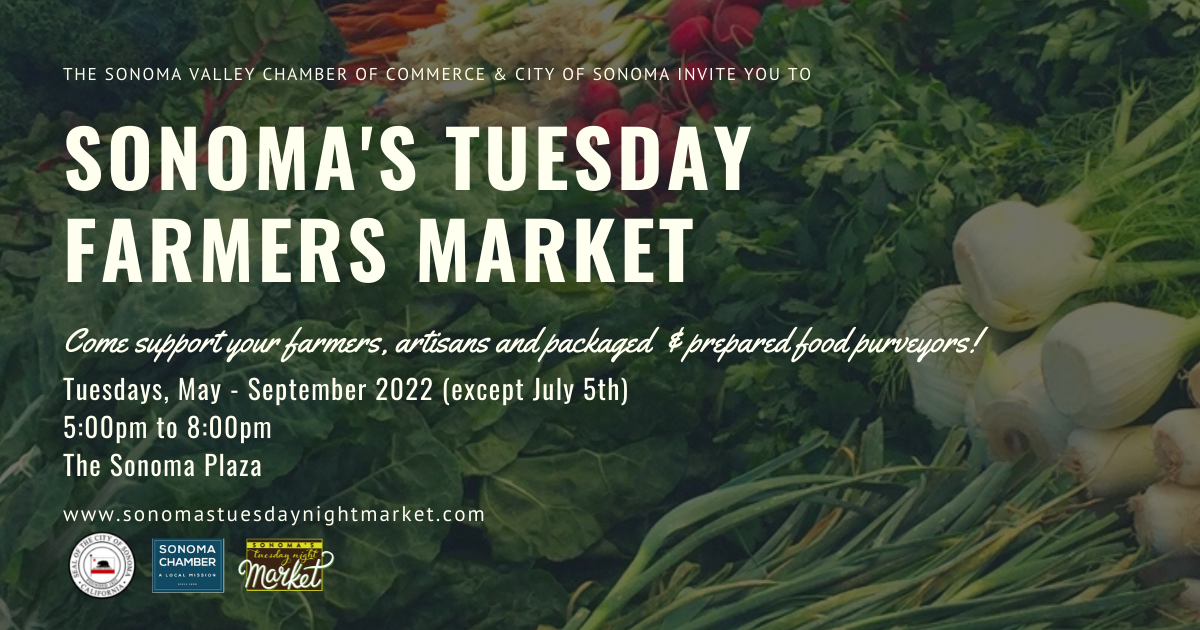 Due to the excessive heat warning issued by the National Weather Service, tonight's Tuesday Night Market on the plaza will be modified. Hours of operation remain 5 pm – 8 pm.
The number of vendors will be reduced and there will be no live music. In addition, Sonoma Plein Air's "Quick Draw" event has been canceled.
BEAT THE HEAT
If you plan on coming to the market, please be sure to take the proper precautions to protect your health:
– Wear light, loose-fitting clothing,
– Drink plenty of water ahead of the event,
– Seek out the shade,
– Don't leave pets and children in cars, and
– Learn the signs of heat illness
—-
Sonoma's Tuesday Night Market presented by the City of Sonoma in partnership with the Sonoma Valley Chamber of Commerce occurs weekly on Tuesdays, May through September (no market on July 5th). The market is located in the "Horseshoe" in front of Sonoma City Hall from 5:00 pm – 8:00 pm with live music on the horseshoe lawn in front of the fountain beginning at 6:00 p.m. Find an entertainment schedule on the market website.
This year's market will continue to feature farmers and agricultural vendors, packaged food, and artisan vendors and has expanded to include prepared food vendors which were not permitted the past two years due to Covid restrictions.
Double Your CalFresh Benefits at the Tuesday Night Market with Market Match
Sonoma's Tuesday Night Market is proud to welcome CalFresh/Electronic Benefit Transfer (EBT) at our market, and thanks to a generous sponsorship by Sonoma Harvest Olive Oil and Winery, customers using EBT will receive a one-to-one match in "Market Match" tokens, which can be used to purchase fresh fruits and vegetables, artisan bread, meats, dairy, seeds, and plants that produce food.
New to the market this year, Market Match is California's healthy food incentive program, which matches customers' federal nutrition assistance benefits at farmers' markets and other farm-direct sites. Spending your CalFresh EBT at the farmers' market is easy! Simply, bring your EBT card to the Information booth, where we will swipe your card and give you EBT tokens, which can be used to make purchases from our farmers, ranchers, cheesemakers, and bakers.
For more information about Sonoma's Tuesday Night Market, please visit www.sonomastuesdaynightmarket.com
Follow Sonoma's Tuesday Night Market on Facebook & Instagram