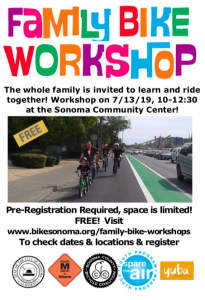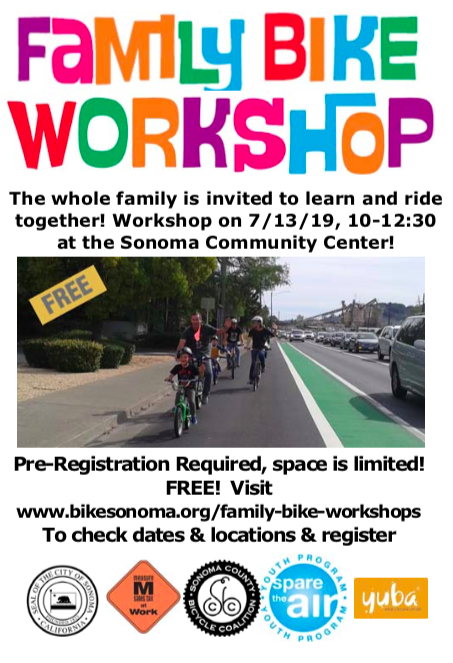 Join the Sonoma County Bicycle Coalition for a Family Bike Workshop, sponsored by the City of Sonoma.  These workshops are for families with kids learning to ride on the road. Families will learn to safely navigate the streets in a variety of situations through fun, skill-building activities and an instructional neighborhood ride.
WHEN: Saturday, July 13th, 2019. 10:00 a.m.–12:30 p.m.
WHERE: Sonoma Community Center, 276 E. Napa St.
Topics Covered Include:
Lane positioning and riding in the same direction as cars on the road
Intersection right-of-way and crossings
Obeying stop signs and traffic lights
Hand signals
Handling skills for safe riding
REQUIRED: Advance Registration at www.bikesonoma.org/ family-bike-workshops (space is limited)
QUESTIONS: saferoutes@bikesonoma.org or 707-545-0153
Bikes must be in working order.
All cyclists must have a helmet to participate.
Kids must be able to ride a two-wheel bicycle; younger children may participate in bike-seats, trailers, or trail-a-bikes.
Need a helmet or bike adjustment? Free helmets and/or free minor adjustments available, by request, to registered participants.