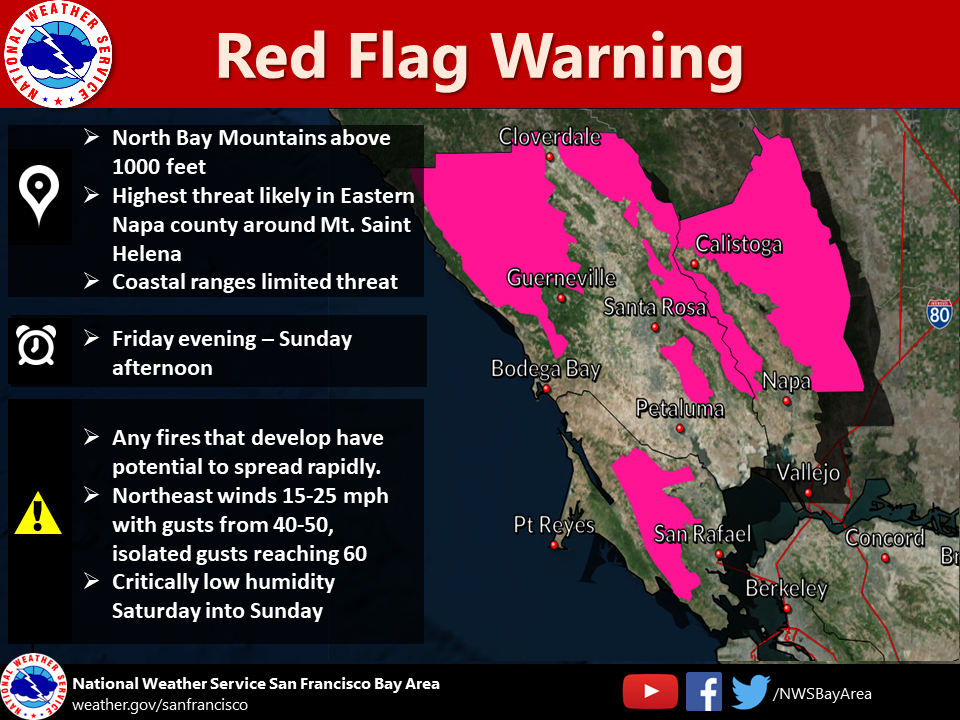 The National Weather Service issued a Red Flag Warning for Sonoma County which is in effect from 11 pm Friday, June 7th  to 5 pm Sunday evening. A Red Flag Warning means that critical fire weather conditions comprised of strong winds and low relative humidity are either occurring now, or will shortly.
Fire Departments and Districts are aware of the Red Flag Warning. Each Department or District has their own plan to respond to Red Flag Warnings, based on the needs of their area. Some fire agencies in Sonoma County will up-staff and pre-deploy resources throughout the county. Likewise, Sonoma County Emergency Management Division is actively monitoring conditions and staff is on call and ready to respond to changing conditions that could impact our residents.
Stay informed –
· Sign up for safety information on Nixle by texting your zip code to 888-777.
· For information on immediate threats to personal safety or property, tailored to an address of your choosing, sign up for SoCo Alerts www.SoCoAlert.com.
· Sonoma County will send a Wireless Emergency Alert to areas if evacuations are ordered, intended to reach all cell phones in the area. Learn more: www.socoemergency.org
· You can view current National Weather Service Alerts for Sonoma County here.
Review your evacuation and communication plan –
· Identify several evacuation routes for your location in case roads are blocked, and tell someone out of the area which routes you plan to use.
· If you will evacuate by car, keep your car fueled and in good condition. If your car is in a garage, know how to manually open the garage door in case of a power outage.
· Make a list of what you'll want to take with you if you leave your home quickly. Consider the Five P's of Evacuation: 1) People/Pets; 2) Prescriptions; 3) Papers; 4) Personal Needs; 5) Priceless Items.
Prevent Fires –
· If you see smoke or flames, call 911 immediately.
· Do not use open flames, briquettes or fireworks of any kind.
· Never mow or trim on dry grass on a Red Flag Warning Day.
· Do not park or drive vehicles in dry grass.
· Keep flammable objects (lawn mowers, oil or gas cans, propane tanks and wood piles) at least 30 feet away from the home at all times.
· Keep roofs, gutters, decks and patios clear of leaves, pine needles or other flammables.