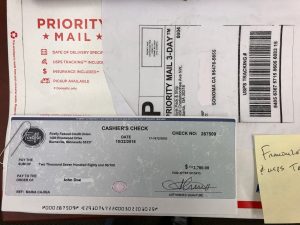 On Monday, October 29, 2018, a check was delivered to an address in the city of Sonoma via US mail from "Firefly Federal Credit Union" out of Minnesota for the amount of $2,780. The recipient was not expecting a refund nor payment as indicated on the check and they suspected it to be a fraud. The Sonoma Police Department contacted the bank and the bank confirmed it to be fraudulent.
According to bank officials, once a person deposits this check into an account, the issuer will get an electronic response that the check in question was deposited to an account, allowing the issuer to view your bank account number. At this point, the issuer of the fraudulent check would have access to your account and withdraw funds. The bank official stated that these fraudulent checks are being mailed all over the Country. If you receive one of these checks or a check that is unfamiliar to you; the bank official recommends that you call the bank that issued the check to verify its authenticity.
For questions or additional information, contact the Sonoma Police Department by phone (707) 996-3602 or email police@sonomacity.org.