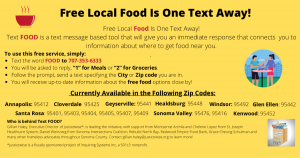 Text FOOD is a new text message-based tool that connects you to local information about where to get food near you. With Text FOOD, Sonoma County residents can use their cellphones to text the word "Food/Comida" to the phone number and get an immediate response with the information they need.
The Text FOOD program is the first tool in a growing toolkit that supports collaboration among those who seek to create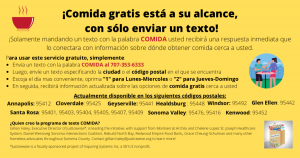 conditions that give shelterless and low-income residents the options they need to make choices that promote resilience and good health.
How it works:
Text the word FOOD or COMIDA to 707-353-6333
You will be asked to reply, "1" for Meals or "2" for Groceries
Follow the prompt, send a text specifying the City or Zip code you are in.
You will receive up-to-date information about the free food options close by!
Who is behind Text FOOD?
Gillian Haley, Executive Director of Justicewise*, is leading the initiative, with support from St. Joseph Healthcare System, Rebuild North Bay, Redwood Empire Food Bank, Sonoma Intersections Coalition, Grace Cheung-Schulman and many other homeless advocates throughout Sonoma County. Contact gillian.haley@justicewise.org to learn more!
*Justicewise is a fiscally sponsored project of Inquiring Systems Inc, a 501c3 nonprofit.