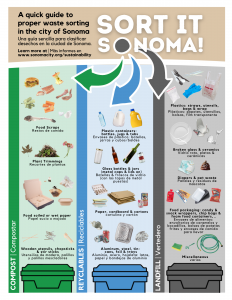 California is the first state to mandate the proper sorting of organic waste/food scraps to combat climate change. The law is designed to reduce the amount of methane, a powerful greenhouse gas, produced when organic materials are landfilled. The state law SB 1383 will require all residents, businesses, multi-unit properties, and organizations to properly sort wastes into the City's three containers: recyclables into the blue container, compostables (organic, food scraps, green waste) into the green container, and trash to be landfilled into the grey/black container).
The City has created a new Sort It Sonoma! webpage on the City's website, to provide valuable information on proper sorting including what is recyclable in Sonoma. The City has also posted a flyer to provide simplified information and graphics in English and Spanish to help the community to properly sort. The website also provides helpful information on the various other state-mandated requirements under SB 1383 for businesses and organizations.
The City is also partnering with the Sonoma Ecology Center's Earthlings Club to produce educational videos and public service announcements for KSVY on proper sorting.
Don't have a green waste cart? Contact Sonoma Garbage Collectors by emailing sonomagarbage@gmail.com or call 707-996-7555, Monday thru Friday 8:00 AM-4:30 PM to have one delivered to your address.