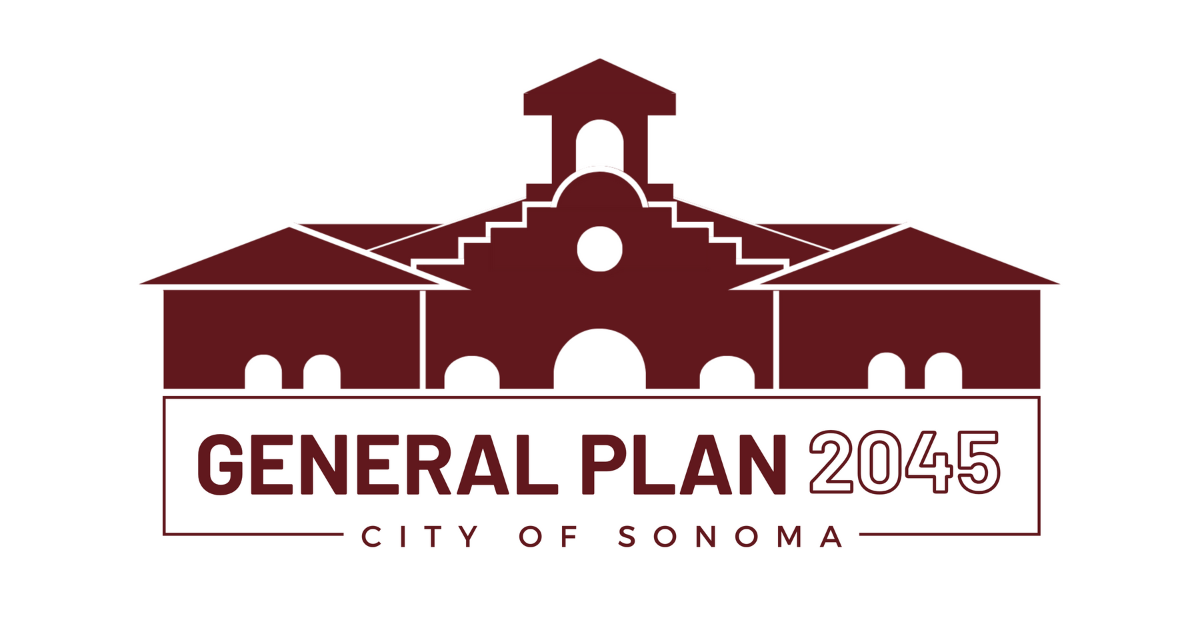 The Sonoma City Council and Planning Commission will kick-off the General Plan 2045 Update at a special joint meeting to be held on Wednesday, October 11, 2023, at 6:00 p.m. Find the agenda on our CivicWeb Portal.
The meeting will be held at City Council Chambers at 177 First St. West and can be viewed on channel 27 or the City's CivicWeb portal. These are "hybrid meetings" in that those interested in participating can do so in person or virtually on Zoom. Find out how to participate in virtual meetings here.
Submit a Comment
The public is encouraged to submit comments online* on our CivicWeb Portal by clicking on the "Public Comment" button at the top of the page or by attending the meeting in person and speaking during the public comment period for the agenda item.
Keep in Touch!
To receive future email meeting notifications, please subscribe to our CivicWeb portal.
* Per the City's standard practice, any comments received prior to the commencement of the meeting will be uploaded to the public correspondence folder on the City's CivicWeb Portal and available for review by the public and the Commission. It will not be read during the meeting.
About  the General Plan Update
The General Plan addresses vital aspects of community life, including land use, economic development, transportation, parks and recreation, cultural and natural resources, public safety, and more. It serves as a valuable reference for City staff, elected and appointed officials, business owners, developers, and citizens, guiding decisions that reflect community values and policy requirements.
The General Plan Update is a platform for residents and businesses to articulate their vision for Sonoma's future. What do you cherish about Sonoma? What opportunities and challenges do you foresee for the City in the next 10, 15, or 20 years? Engaging in the Sonoma General Plan Update process ensures that the updated plan encapsulates the values and priorities of all its stakeholders.
With the existing plan dating back to 2006, this update is crucial to align Sonoma's growth with our values. It covers land use, economic development, transportation, and more, guiding decisions for a thriving city.
Join us in shaping Sonoma's future, learn more and sign up for General Plan 2045 updates on our website. For inquiries, contact Project Planner Kristina Tierney at (707) 933-2202 or generalplan@sonomacity.org.