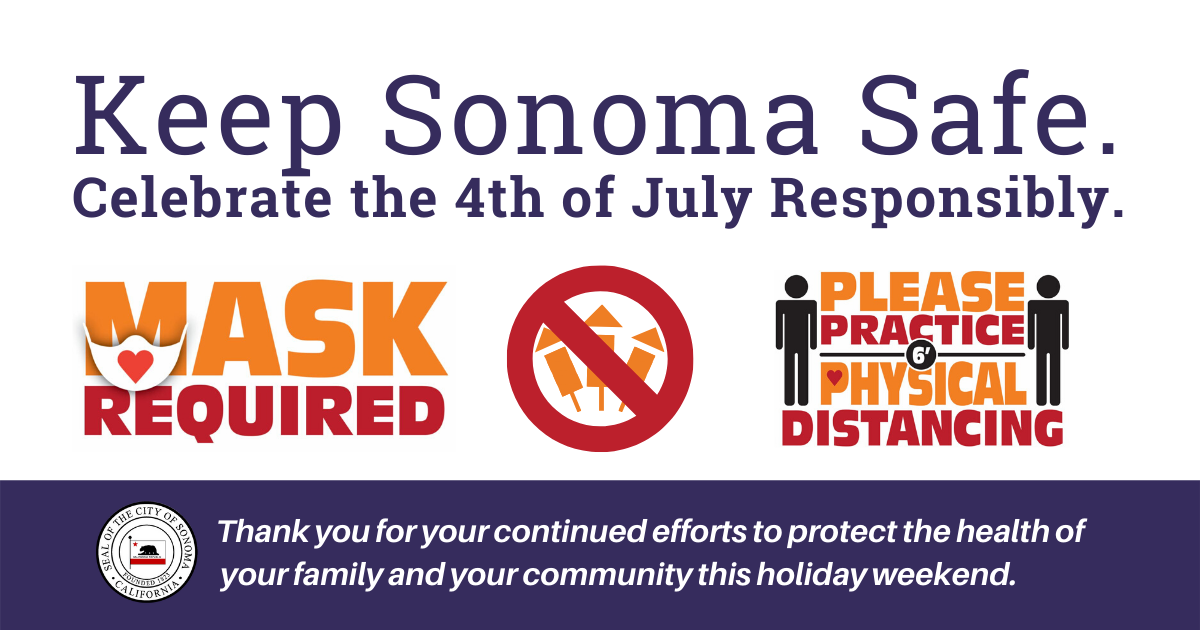 There is no doubt that this 4th of July will look different in Sonoma from previous years. Without our hometown parade, plaza celebration and fireworks show, many of us are considering alternative ways to celebrate. With COVID-19 cases on the rise in Sonoma County and beyond, it is critical that we continue our safe practices – like hand hygiene, face coverings and social distancing – to protect the health of your family and your community this holiday weekend.
Forgo the Fireworks
With our beloved fireworks show canceled, it is tempting to continue the tradition at home – but it's not worth the risk to you, or your property. Adding Illegal fireworks to an early start to fire season and an increasing number of Red Flag Warning days is a dangerous combination.
PLEASE BE ADVISED: Fireworks are illegal in the City of Sonoma and Unincorporated Sonoma County. Property owners will be held responsible for firework activity that occurs on their property and will be cited accordingly, regardless of who possesses or lights the fireworks. Violations will incur a $1,000 fine.
Avoid Large Gatherings
There's no question, we all want nothing more than to take a break from social distancing and enjoy this holiday weekend with our friends and relatives, but now is not the time to let down our guard. Gathering in groups — even groups of family, relatives or friends — has been a common source of community spread of COVID-19 in California. Help us flatten the curve (again) by limiting gatherings to members of your own household and staying 6ft away from others if you choose to gather outside of your home.
Clean & Cover & Keep Your Distance
We all know the drill. Keep your distance. Wear a facial covering. Continue frequent hand hygiene. And please, whatever your Independence Day plans may be, if anyone is feeling any symptoms at all, stay home.
40% of people that are currently testing positive for COVID-19 don't have any symptoms. If these people wear facial coverings, especially in public places or around others, the virus is likely to get trapped in their covering, preventing spread.
Thank you for your continued efforts to prevent the spread of COVID-19 this holiday, and every day. Stay Safe Sonoma!