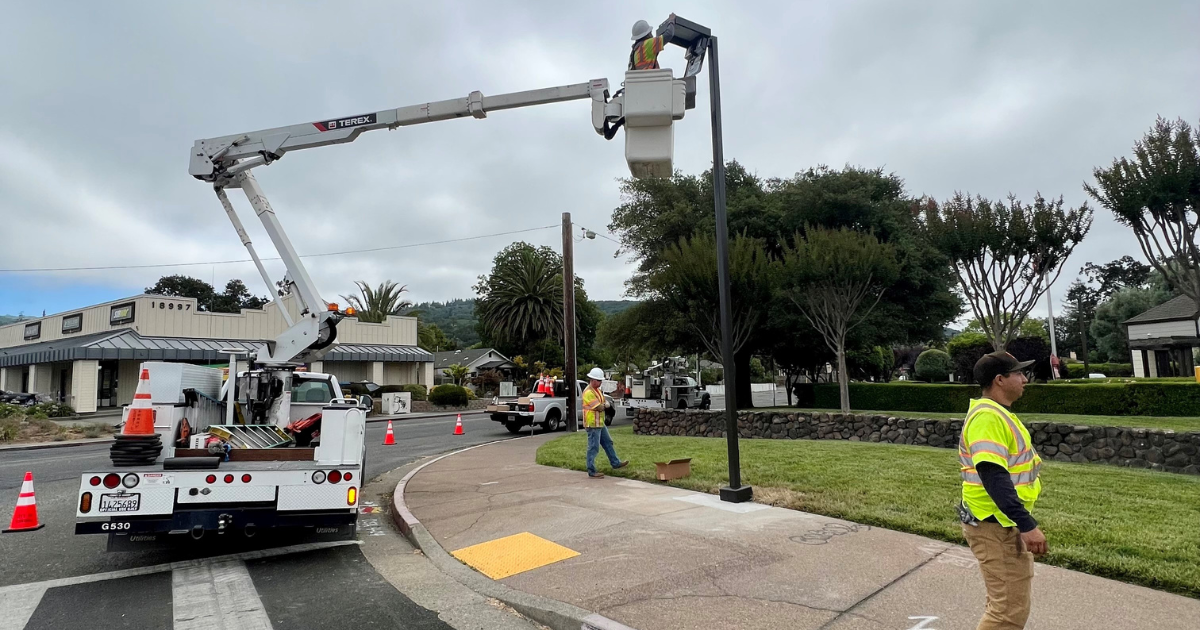 In a dedicated effort to bolster pedestrian safety, the City of Sonoma Public Works Streets Division along with Sonoma County Public Infrastructure and the Sonoma County Water Agency successfully installed temporary solar luminaires to enhance visibility at two of the four corners of Verano Avenue and State Route 12 (Sonoma Highway) intersection. These luminaires, which resemble overhead lights, now occupy the northwest and southeast corners of the intersection, illuminating the area. This initiative is part of the first phase of an integral part of the comprehensive Caltrans pedestrian safety improvement plan for the intersection. As part of a larger, long-term endeavor, Caltrans is slated to replace the temporary luminaires with permanent fixtures.
City officials and staff have engaged in constructive dialogues and collaborative efforts aimed at elevating pedestrian safety at the Hwy 12 / Verano Avenue intersection located just beyond the city limits. Recognizing its vital role as a primary entry and exit point for motorists, cyclists, and pedestrians traveling to and from the City of Sonoma, these safety enhancements hold immense importance. The City of Sonoma extends its sincere gratitude to the Sonoma County Public Infrastructure, Supervisor Gorin, the Springs Municipal Advisory Council and Caltrans for their commitment to and collaboration in implementing these crucial safety upgrades along this bustling and vital travel corridor.
On Wednesday, August 23, 2023, Caltrans will modify the timing of the traffic lights at the intersection as recommended by traffic experts. This adjustment involves the introduction of an "all phase" pedestrian timing scheme by traffic engineers. Under this setup, whenever a pedestrian triggers the pedestrian signal, all vehicular movement will come to a stop through red lights. To complement the standard signals, Caltrans will also put in place electronic signs that read "No Right on Red," aiming to prohibit right turns once the pedestrian signal becomes active. Learn more on the Caltrans project page.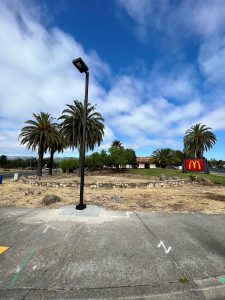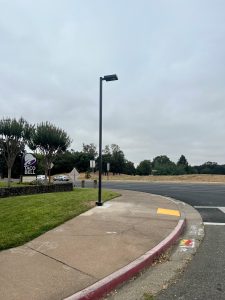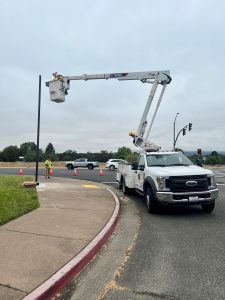 Photos: The City of Sonoma Public Works Streets crews installs posts and fixtures for the temporary lighting. The installation itself was made possible with the indispensable assistance of the County Public Infrastructure's cherry picker.