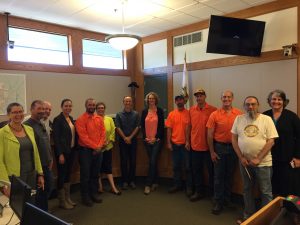 The City of Sonoma is celebrating Park and Recreation Month this July. In accordance with the tradition of the National Recreation and Park Association (NRPA), City staff and community services partners were recognized at the City Council Meeting on June 21, 2018, when Mayor Agrimonti proclaimed the Month of July "National Park and Recreation Month."
The proclamation was presented to the City of Sonoma Public Works Parks Team and the Community Services partners who provide recreational activities in Sonoma.  Read the proclamation and download the PowerPoint presentation or watch the proclamation and presentation from our CivicWeb portal to learn more about City of Sonoma Parks Team and the City's Recreation & Community Services Partners.
NRPA invites you to explore A Lifetime of Discovery at your local parks and recreation and encourages people that support parks and recreation to share why they think it's important to explore and discover all the City of Sonoma has to offer with the hashtag #DiscoverJuly.
To learn more about Park and Recreation Month, visit www.nrpa.org/July.
About the National Recreation and Park Association
The National Recreation and Park Association is a national not-for-profit organization dedicated to ensuring that all Americans have access to parks and recreation for health, conservation and social equity. Through its network of 60,000 recreation and park professionals and advocates, NRPA encourages the promotion of healthy and active lifestyles, conservation initiatives and equitable access to parks and public space. For more information, visit www.nrpa.org. For digital access to NRPA's flagship publication, Parks & Recreation, visit www.parksandrecreation.org.