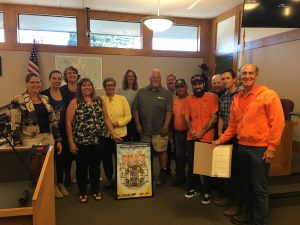 In accordance with the tradition of the American Public Works Association, those who work in professions that provide and maintain public facilities and services were honored at the special City Council Meeting on May 14, 2018, when Mayor Agrimonti proclaimed the week of May 20 – 26 "National Public Works Week."
The proclamation was presented to Public Works staff.  Read the proclamation and download the PowerPoint presentation or watch the proclamation and presentation from our CivicWeb portal to learn more about City of Sonoma Public Works Department and the Public Works Streets Team.
Public works professionals include those who manage water, sewer, public transportation, and refuse removal systems as well as those responsible for maintaining public buildings and grounds. They are, in short, the people who maintain and improve the systems and services vital to a community's health, safety and comfort.
The mission of the City of Sonoma Public Works Department is to serve the needs of Sonoma's citizens by maintaining, operating, and improving the City's infrastructure: transportation, water distribution, well water supply, storm drainage, parks and trails, City-owned streetlights, City-owned buildings, and City-owned cemeteries. This public infrastructure is the foundation that connects the City's businesses, communities, and people, driving our economy, improving our quality of life, and ensuring our public health and safety.  The Department also serves a coordination role for special events, other utilities, and solid waste/recycling/compost collection services. Public Works has 21 full-time staff positions and 2 part-time positions.
SaveSave