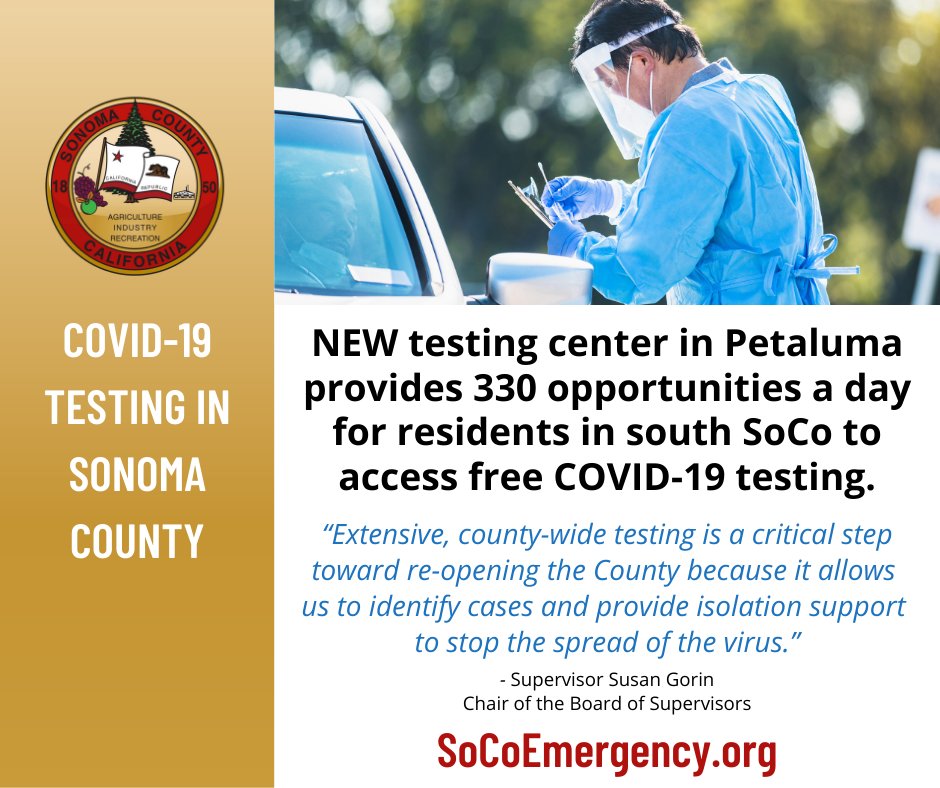 As part of Sonoma County's efforts to increase testing opportunities for residents, the County partnered with state officials to open a ​COVID-19 testing site in Petaluma​ this week. The new site, located at Herzog Hall at the Petaluma Fairgrounds, is the third site in the County operated by OptumServe, a federal health services business under contract with the state to provide free COVID-19 testing for California communities. The center, which is open Monday through Friday from 7 a.m. to 7 p.m., provides up to 330 opportunities a day for residents to access free COVID-19 testing.
Options for COVID-19 Testing in Sonoma County
Testing is one of the most effective methods of gaining a clearer understanding of COVID-19 spread in our community and residents have been testing at an unprecedented rate over the last several weeks.  As the effort continues to stop the surge of the virus, it is important to know about the range of testing options available to you.
First, if you have health insurance, contact your healthcare provider, whether it's Kaiser or Sutter or someone else, to see about scheduling an appointment to be tested.
The next option is to get an appointment with another provider such as OptumServe, which does testing at the Santa Rosa Fairgrounds, Windsor Bluebird Community Center, and the new site at the Petaluma Fairgrounds. Project Baseline in Santa Rosa is another option for testing. There is no cost for these testing sites, however, they do ask that if you have healthcare insurance that you let them know. Charging back to insurers helps defray some of the cost of providing these state-sponsored testing sites. ​Find details for these sites​.
Finally, if you live in one of the key ​disadvantaged neighborhoods or census tracts​ that have experienced a high rate of infection, we encourage you to take advantage of one of the pop-up testing sites, including at the Sonoma Park & Ride in Boyes Hot Springs on Monday mornings. These tests are free, and your information is kept confidential. Due to the high volume of calls, the best way to get an appointment is to visit the ​online testing scheduler​. Click here to watch a Spanish language tutorial on how to make an appointment online.
For more information about COVID-19 testing in Sonoma County, please visit SoCoEmergency.com.