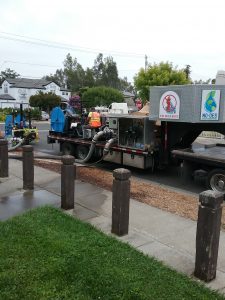 A no-discharge water main flushing system is to be used to flush some of the City's water mains beginning on Monday, August 27, 2018 at 8:00 AM by ValveTek Utility Services, Inc (ValveTek). The project is expected to last approximately nine (9) days.  ValveTek will start flushing mains in the Fryer Creek neighborhood and then move to neighborhoods East of Broadway.  No disruptions to water service are expected.
The patented process (US Patent # 6,627,089 B1) by ValveTek Utility Services, Inc. utilizes a truck and trailer with an onboard filtering system to flush segments of the water distribution system without discharging water. Water flows from one fire hydrant, through the filtering system, and back into the water distribution system through another fire hydrant. Learn more about no-discharge water main flushing.
For questions or comments regarding the main flushing, please contact the City of Sonoma Public Works Department via email publicworks@sonomacity.org or phone (707) 938-3332.