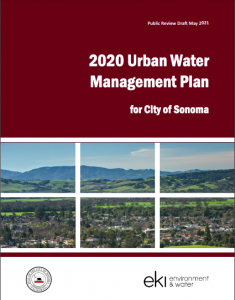 The Sonoma City Council will hold a public hearing to receive comments on the 2020 Urban Water Management Plan (UWMP) and Water Shortage Contingency Plan (WSCP) at their regular meeting on June 7th at 6:00 PM. Read the complete notice of public hearing.
The UWMP and WSCP are adopted every five years for the purpose of consolidating information regarding water supply and demand, provide public information, and improve statewide water planning. In conjunction with the updates to the UWMP and WSCP, the community is given the opportunity to give input on the City's method of determining its urban water use target, the City's implementation plan for meeting said target, and any impacts to the local economy resulting from this implementation plan.
The public is invited to review and download the UWMP and WSCP on the City's website.
We Want to Hear From You!
Interested parties are invited to address any comments directly to the City Council, via email to publiccomment@sonomacity.org by 5 p.m. on June 7, 2021. Public Comment will only be received by email to the email listed above.
Interested attendees should visit the City's CivicWeb portal to confirm the meeting location, time, and agenda. An agenda and staff report will normally be available on the Thursday prior to the City Council meeting. To receive future City Council meeting notifications via email, please subscribe.