ACCOUNTING TECHNICIAN – City of Sonoma ($59,774 – $72,655)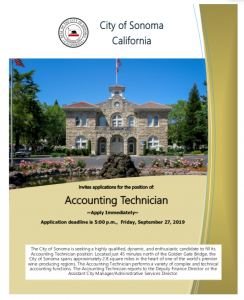 Immediate opening for an Accounting Technician.  Performs a variety of complex and technical accounting functions in one or more assigned areas, including utility billing and customer service, accounts receivable, business licenses, cash entries and deposits; or payroll and accounts payable,  maintain related records; and provide technical support to the Deputy Finance Director or the Assistant City Manager/Administrative Services Director. Requires the equivalent of an Associate's degree from an accredited college with major work in finance, accounting or a related field. The application deadline is Friday, Sept. 27, 2019.
City application is required and available to download, at City of Sonoma, No. 1 The Plaza, Sonoma, CA 95476, or by calling 707-938-3681.
For more detailed information on the position, please view the Accounting Technician Brochure.
To apply for this job email your details to humanresources@sonomacity.org