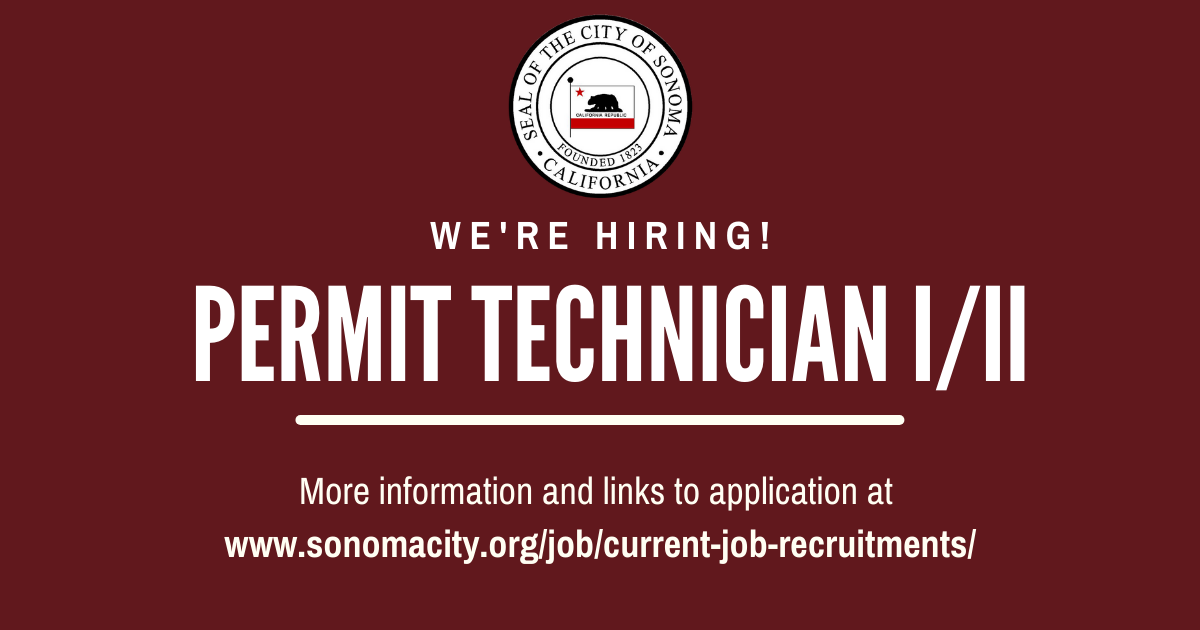 The City of Sonoma is seeking a highly qualified, dynamic, and enthusiastic candidate to fill its full-time Permit Technician I/II position in the Development Services Department. Annual salary range for the incoming Permit Technician I position is $53,775-$65,364 and for the Permit Technician II is $59,750-$72,626, DOE,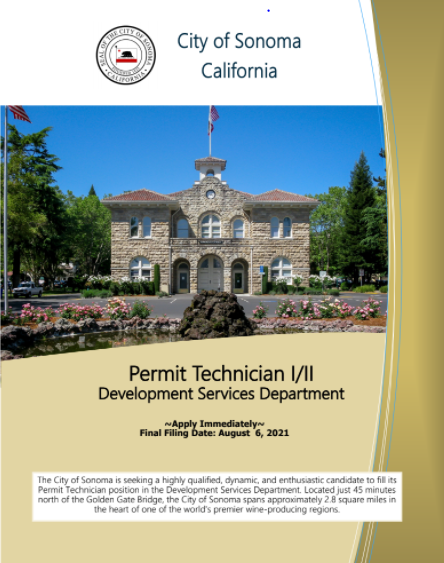 This position performs a variety of technical planning and building support duties; learns to review minor construction plans and permit applications such as water heater and HVAC replacements, reroofing, electrical panel replacements, signs, residential electric vehicle charging stations, solar PV systems;  reviews and processes permits and entitlements for new construction, building modifications, and development applications; serves as first contact to provide information to the public; calculates and collects fees; routes plans for review; provides administrative support for meetings including preparation of agendas and meeting minutes, scheduling, logistics, audio-visual presentations, electronic meeting hosting, etc.; Prepares and issues applications for new water connections or water customers. Supports City reception activities and has the ability to backup and perform some of the primary duties of the Administrative Assistant and the Development Services Supervisor serving the City Hall front counter and perform related duties as assigned. View and download a detailed recruitment brochure for more information.
A typical candidate will possess:
Permit Technician I
Two years of experience performing increasingly responsible office support duties involving heavy public contact, and equivalent to the completion of the twelfth grade.
Permit Technician II
In addition to the above, two years of planning and/or building permit review experience equivalent to that of a Permit Technician I in the City of Sonoma.
If you are interested in this outstanding opportunity please submit a cover letter, City of Sonoma application and resume electronically to:
City of Sonoma – Attention Cathy Lanning, Administrative Services Manager, clanning@sonomacity.org.
APPLICATION DEADLINE: 5:00 p.m. Friday, August 6, 2021. An application is available online, at City Hall, No. 1 The Plaza, Sonoma, CA 95476 or by calling 707-938-3681. A City of Sonoma application is required along with a resume.