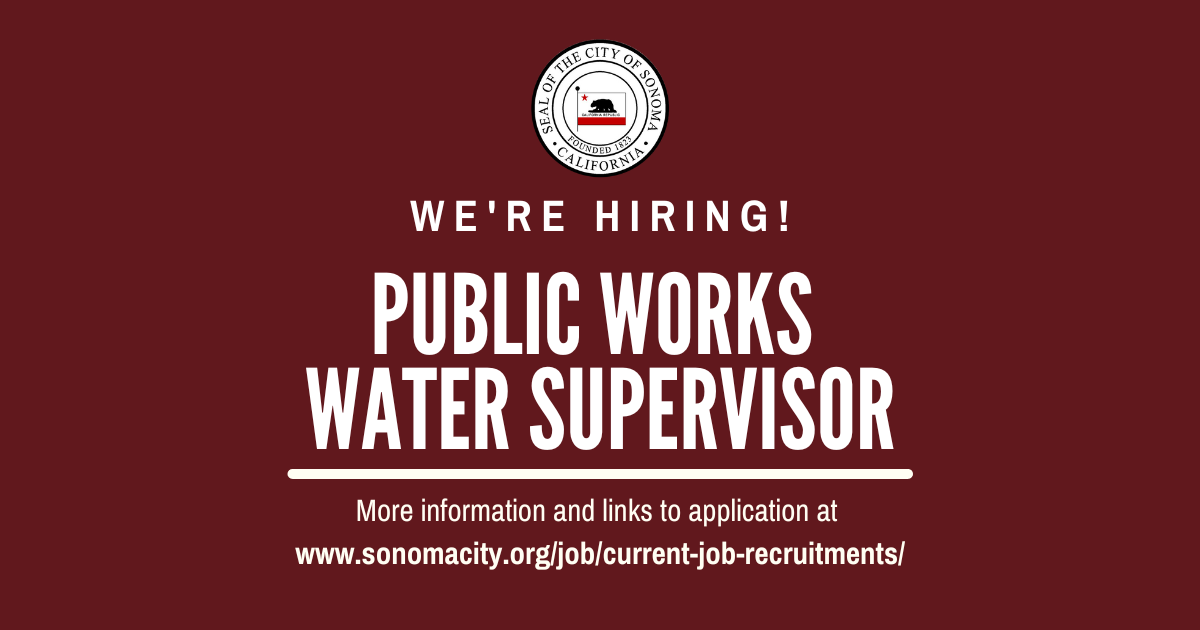 The City of Sonoma seeks a highly qualified, dynamic, and enthusiastic candidate to fill its Public Works Water Supervisor position (salary range $85,441 – $103,854 per year, DOE). This position reports to the Public Works Operations Manager and is responsible for the operation of the City's water system, including water mains and laterals, valves, fire hydrants, wells, pumping stations, storage tanks, water meters, and a SCADA system. The Water Supervisor supervises a team consisting of one Senior Maintenance Worker and three Maintenance Workers.
A typical candidate will possess the equivalent to completion of the twelfth grade supplemented by college course work in a related field, three years of increasingly responsible experience in water treatment and distribution system maintenance and operations, including one year providing technical and functional supervision over assigned personnel. View or download the Water Supervisor brochure for a detailed description of the position, qualifications, compensations, and benefits.
If you are interested in this outstanding opportunity please submit a cover letter, City of Sonoma application, and resume electronically to: City of Sonoma – Attention Cathy Lanning, Human Resources Manager, clanning@sonomacity.org.
APPLICATION DEADLINE: 5:00 p.m. November 14, 2022. An application is available online, at City Hall, No. 1 The Plaza, Sonoma, CA 95476 or by calling 707-938-3681. A City of Sonoma application is required along with a resume.