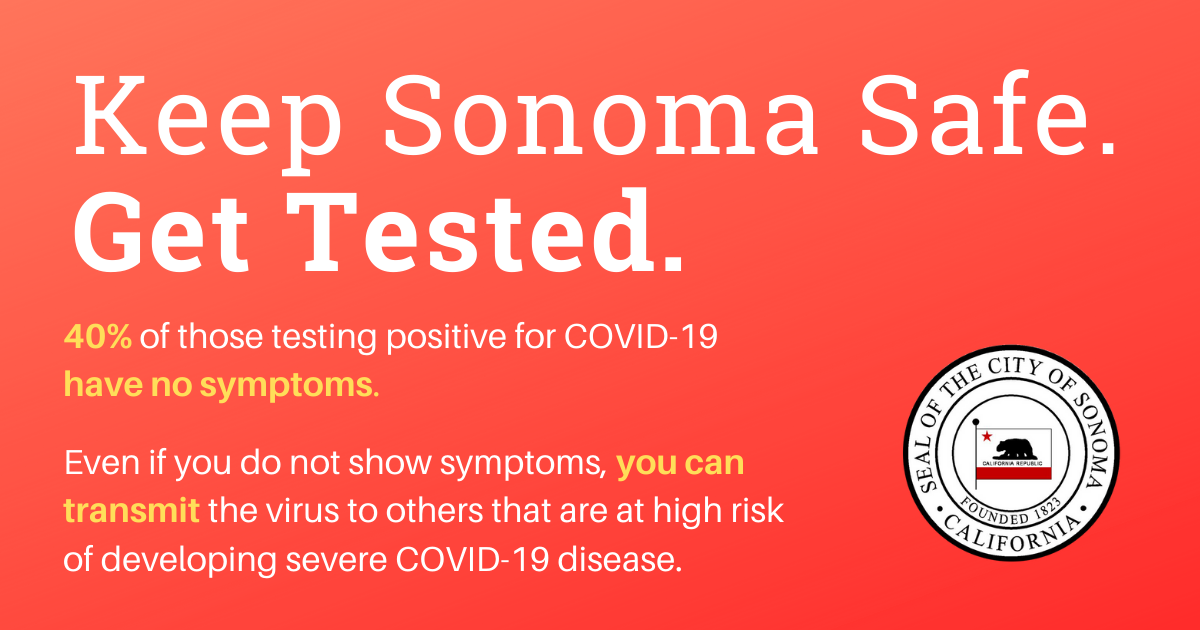 Testing is one of the most effective methods of gaining a clearer understanding of COVID-19 spread in our community and residents have been testing at an unprecedented rate over the last month.  As the effort continues to slow the spread of the virus, it is important to know about the range of testing options available to you.
First, if you have health insurance, contact your healthcare provider, whether it's Kaiser or Sutter or someone else, to see about scheduling an appointment to be tested.
The next option is to get an appointment with another provider such as OptumServe, which does testing at the Santa Rosa Fairgrounds at the Windsor Bluebird Community Center. Project Baseline in Santa Rosa is another option for testing. There is no cost for these testing sites, however, they do ask that if you have healthcare insurance that you let them know. Charging back to insurers helps defray some of the cost of providing these state-sponsored testing sites. ​Find details for these sites​.
Finally, if you live in one of the key ​disadvantaged neighborhoods or census tracts​ that have experienced a high rate of infection, you are encouraged to take advantage of one of the County's weekly pop-up testing sites. See a complete list of testing sites on the County's website, or view flyer in English and Spanish. In addition to the County's pop-testing, Curative also offers weekly pop-up testing. These tests are free, and your information is kept confidential.
Pop-up testing at St. Leo's Catholic Church, 601 Agua Caliente Rd W
Mondays, 10AM – 4PM & Wednesdays 2PM – 4PM
Curative testing takes place at St. Leo's Catholic Church on Agua Caliente Road from 10AM – 4PM. These tests are free, and your information is kept confidential. These tests are self-administered oral tests  -watch Curative's instructional video in English and Spanish to find out what to expect. Appointments can be made up to 4 days in advance on their website.
In addition to the Curative site, the Sonoma Valley Community Health Center offers weekly testing at St. Leo's Catholic Church on Wednesdays from 2PM – 4PM. View the flyer in
English
and
Spanish
. Appointments can be made online at https://sonomacounty.fullslate.com/locations/12058.
Click here to watch a Spanish language tutorial on how to make an appointment online.
For more information about COVID-19 testing in Sonoma County, please visit SoCoEmergency.com.