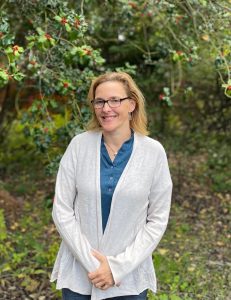 Public Works Director Colleen Ferguson is pleased to announce that Oriana Hart was promoted to become the City's new Public Works Administrative and Project Manager effective November 5th.  Ms. Hart was selected for this promotion based on her exemplary work as the City's Environmental Compliance Analyst and her prior project management experience.  As the City's Public Works Administrative and Project Manager, Ms. Hart will manage the City's Capital Improvement Program projects, assist with the Public Works budget, and organize administrative services for Public Works including contracts, grants, land development processes, policies and procedures, personnel and City Council items.
Ms. Hart came to the City in July 2021 with 6 years of experience working for the County of Sonoma Permit and Resource Management Department, both in the stormwater and creeks team and with the engineering encroachment and design review team.   Prior to that, she worked for over 10 years in private construction as the project manager for large maritime infrastructure projects, primarily for the Army Corps of Engineers.   Ms. Hart also came with experience working with the City of Sonoma while managing the EPA Grant Clean Streams of Southern Sonoma County.  Ms. Hart holds a Bachelor's degree in Earth Science/Geophysics.
"I am grateful for this new opportunity and look forward to working with Public Works and the community in this new role," said Ms. Hart.