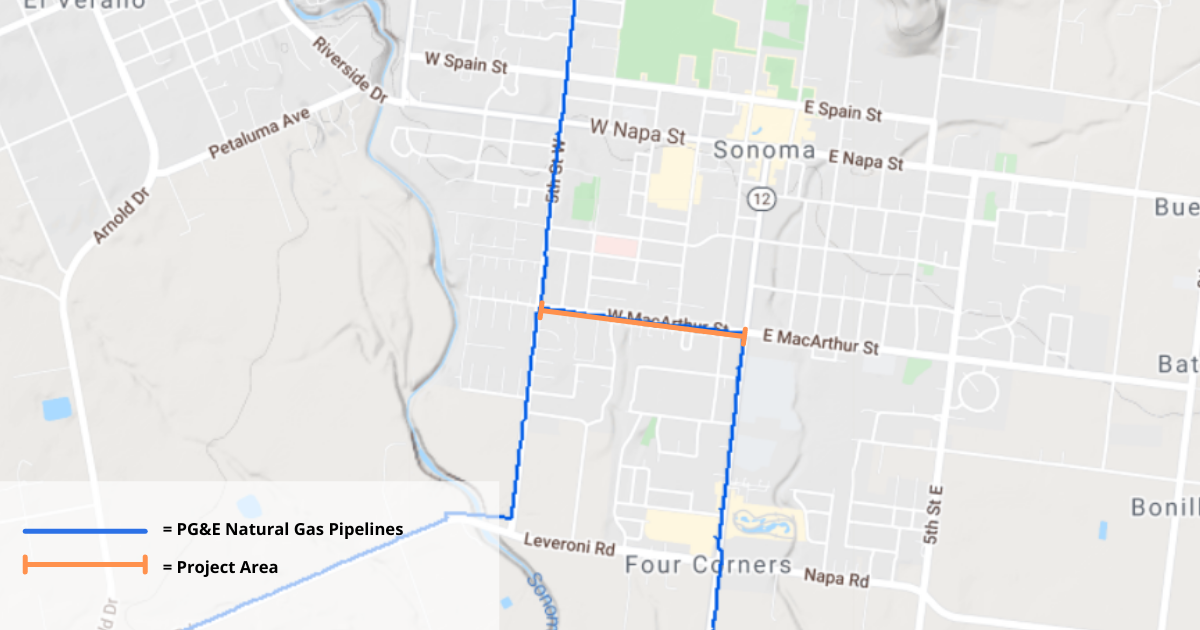 The Pacific Gas & Electric Company (PG&E) has announced plans to begin work on natural gas pipelines on West MacArthur Street beginning June 28, 2021. The project is expected to be completed by October 2021.
PG&E advises that drivers and pedestrians should expect traffic delays South and East of Highway 12 in the city of Sonoma, as PG&E enhances the safety and reliability of the natural gas system in the area. Starting the week of June 28, 2021, PG&E and its contractor, ARB, will begin replacing a portion of a natural gas transmission pipeline that runs along West MacArthur Street between 5th Street West and Highway 12 / Broadway.
The work is a pipeline replacement project that includes trenching underneath West MacArthur Street to replace approximately 2,730 feet of 6" steel transmission main pipe with an 8" steel pipe.
Construction will occur starting from 7 a.m. through 5 p.m. Monday through Friday, excluding holidays.  Traffic delays are likely for both pedestrians, cyclists and motorists during the project, as there may be detours, condensed lanes, or lane closures at certain points of the project.
PG&E has reached out personally to approximately 110 customers in the immediate work area along MacArthur St. and Fryer Creek.  Approximately 2,434 customers in the broader area also received letters about the work.
During the project, crews may need to release natural gas from the pipeline. The industry term for this is "venting a pipeline." As PG&E releases gas from the line, the smell of natural gas and the sound of venting may be noticeable. The natural gas released during venting will quickly dissipate into the atmosphere and will not be harmful. However, PG&E encourages anyone who has concerns about natural gas odors in or around their home or business to call PG&E at 1-800-743-5000.
Barring inclement weather or other factors, the safety project is expected to be complete by the end of October 2021.