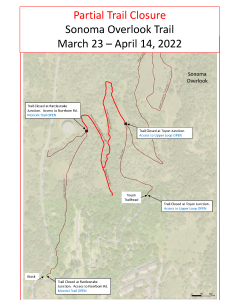 A portion of the City of Sonoma's Overlook Trail will be closed to walkers and hikers for repairs to trail surfaces from March 23 to April 14.
During this period, the affected trail segments are not safe for foot traffic, due to the movement of heavy materials and the need for trail crews to work unimpeded.
Walkers and hikers may still access the Upper Trail's summit by using the Toyon trailhead in the Cemetery. Park at the kiosk and follow the temporary signage on foot through the cemetery to the Toyon entrance.
The Toyon entrance may also be reached on foot through the cemetery entrance at the top end of 2nd Street East and then following the temporary signage.
The main trailhead and part of the lower trail will remain open for those desiring only a short walk to the junction of the Lower trail with Rattlesnake Cutoff, or who wish to connect with the Montini trail at Norrbom Road via the westernmost portion of Rattlesnake.
Montini trail will remain fully open during this period. It can be accessed via the entrance behind Field of Dreams or the main trailhead at 4th Street West.
Work is funded by the volunteer Sonoma Overlook Trail stewards and the City of Sonoma. It is being performed by youth work crews with American Conservation Experience. ACE is familiar with the trail as they performed extensive rehabilitation on other parts of it in 2018.