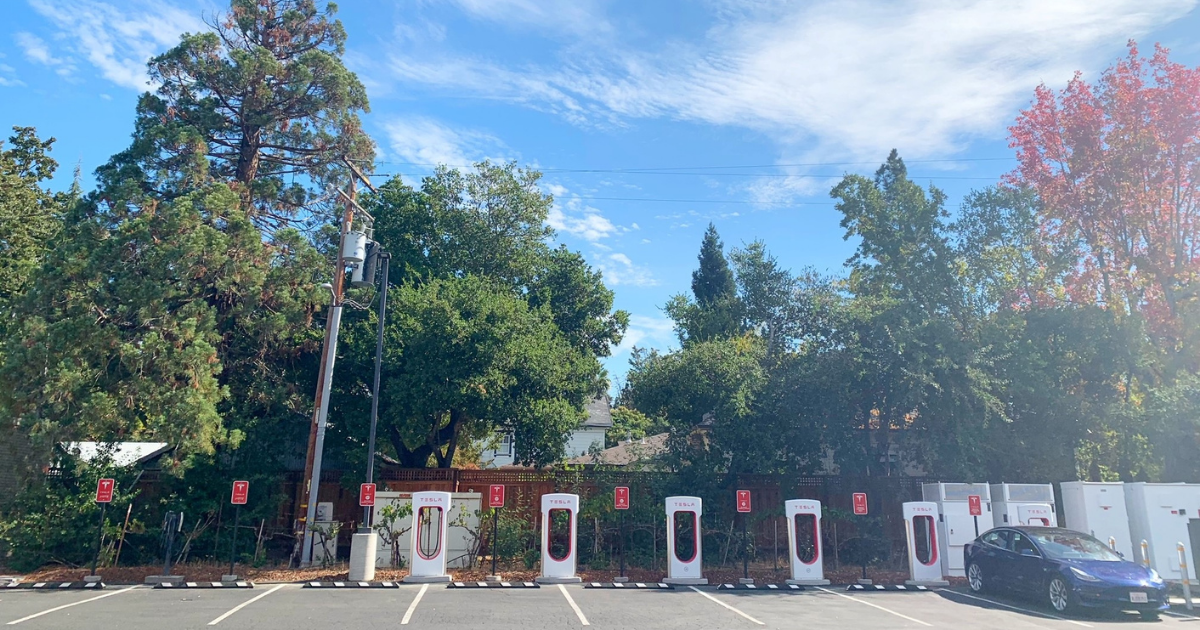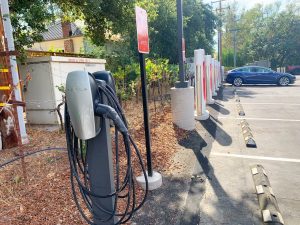 The Sonoma Community Center (SCC) and the City of Sonoma (City) are pleased to announce the opening of Sonoma Valley's first Tesla Supercharger Station. Located at the Sonoma Community Center on 276 East Napa Street, there are 8 Superchargers for Tesla vehicles and 2 medium fast chargers available for any car make.
With the electrification of our transportation now a state and national priority to help combat climate change, EV charging stations are critical. These 10 new chargers greatly expand the EV charging opportunities for residents, Sonoma Community Center patrons, visitors to the city, and commuters.
"The Sonoma Community Center considers these publicly accessible chargers to be a service to the community and city," says SCC's Executive Director, Charlotte Hajer. "Our parking lot now includes two universal chargers, which will fit on any electric vehicle, and which will be free to use for any member of the public. We're also excited to expand our contribution to environmental sustainability, and we see these chargers as an opportunity for community engagement: they will bring new people to Sonoma and to our Community Center campus, offering us a chance to introduce them to the wonderful resources we offer."
The City, which sponsored the 2 medium fast chargers, has committed to reducing the carbon footprint of the community. Because transportation is the largest source of greenhouse gases, EV charging will help support this commitment.
"We are grateful to the Community Center for spearheading this project, we're pleased to have more public use charging stations so close to downtown," says Sonoma Mayor Madolyn Agrimonti. "Electric vehicles are only becoming more prominent on our roads as automakers introduce so many new all-electric models and it's important that Sonoma is "EV-ready" to accommodate them."
The addition of the 10 EV chargers at SCC makes significant progress toward Sonoma City Council's established goal of adding 12 additional publicly available charger ports in city limits by the year 2024. The goal is part of the city's Electric Vehicle Charging Station Implementation Strategy Plan.
Learn more about the City's sustainability and climate action efforts and find tools and actions you can take to reduce emissions and use alternative modes of transportation at www.sonomacity.org/sustainability-and-climate-action/.
About the Sonoma Community Center
Housed in the beautiful 107-year-old Sonoma Grammar School building just off Sonoma Plaza, the Sonoma Community Center was founded in 1953 as a resource for community enrichment through the arts. Today, the mission of the Sonoma Community Center is to cultivate a vibrant community through extraordinary creative, cultural, and learning experiences. Driven by values of community, innovation, creativity, inclusion, and leadership, the Center offers a broad range of classes, events, and performances that encourage people from all walks of life to create, connect, thrive, and build community together.