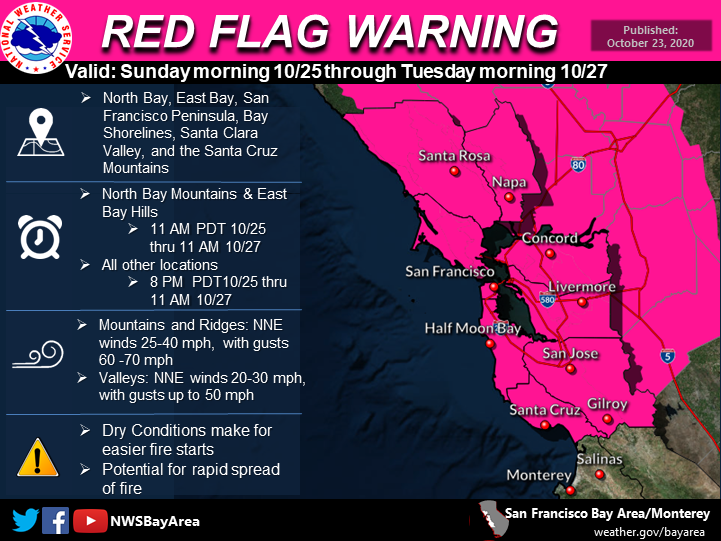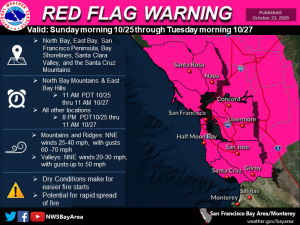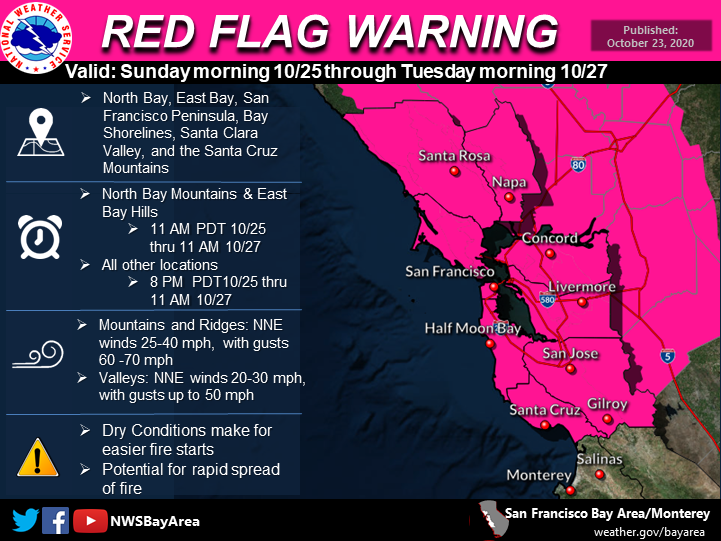 The
National Weather Service
has issued a
Red Flag Warning
beginning Sunday at 11:00 AM for North Bay Mountains and 8:00 PM for all other locations. Winds are expected to be the strongest of the 2020 fire season with critically dry conditions. While the winds are currently forecasted to be strongest Sunday night into Monday morning, this warning continues through Tuesday morning at 11:00 AM due to the dry conditions.
The Sonoma Valley Fire District will up staff a type 3 engine, and a water tender for Sunday morning through Tuesday morning for the Red Flag event and has increased staffing on the rest of the engines in the valley to 4 persons each for the critical fire weather.  
POTENTIAL PUBLIC SAFETY POWER SHUTOFF (PSPS) "WATCH"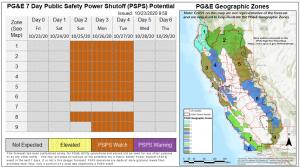 Due to these weather conditions, PG&E ‪has raised the
Public Safety Power Shutoff (PSPS)
potential to "
WATCH
" for Sunday (10/25) through Wednesday (10/28) in Sonoma County and advises that these weather conditions have the potential to result in a much larger scale PSPS event than the last. "WATCH" is PG&E's medium level of potential for a PSPS.
PG&E is expected to begin notifying potentially impacted customers today. Residents in and around Sonoma Valley may receive an automated phone call, text and/or email from PG&E advising them of the "WATCH."
PG&E's address search, outage map, and city/county listings are not yet updated for Sunday's potential safety shutoff. More information is expected to be available today (10/23) by 8:00 PM at
https://pgealerts.alerts.pge.com/updates/
Customers can update their contact information to receive notifications sent by PG&E online (https://m.pge.com/#login) or by phone, in English at 1-866-743-6589 and in Spanish at 1-866-743-6589.
To find more information about preparing for power outages visit www.sonomacity.org/extended-power-outages