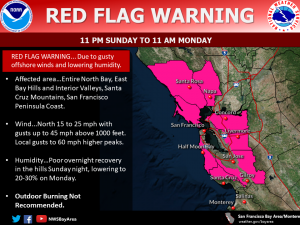 UPDATE: The Red Flag Warning has been extended to Monday at 5:00 PM.
The
National Weather Service
has issued a Red Flag Warning & Wind Advisory for much of the Bay Area including the Sonoma City and Valley and is in effect from 11:00 p.m. tonight (Sunday) to 11:00 a.m. tomorrow (Monday) due to forecasted strong offshore winds out of the northeast.
Wind speeds of 15 to 25 mph with gusts 45-60 mph in the hills with gusts 30-45 mph into lower elevations are anticipated. The strongest winds are expected tonight then peak around sunrise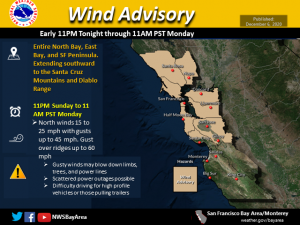 tomorrow morning. Strong winds could cause power outages as well as downed trees and limbs.