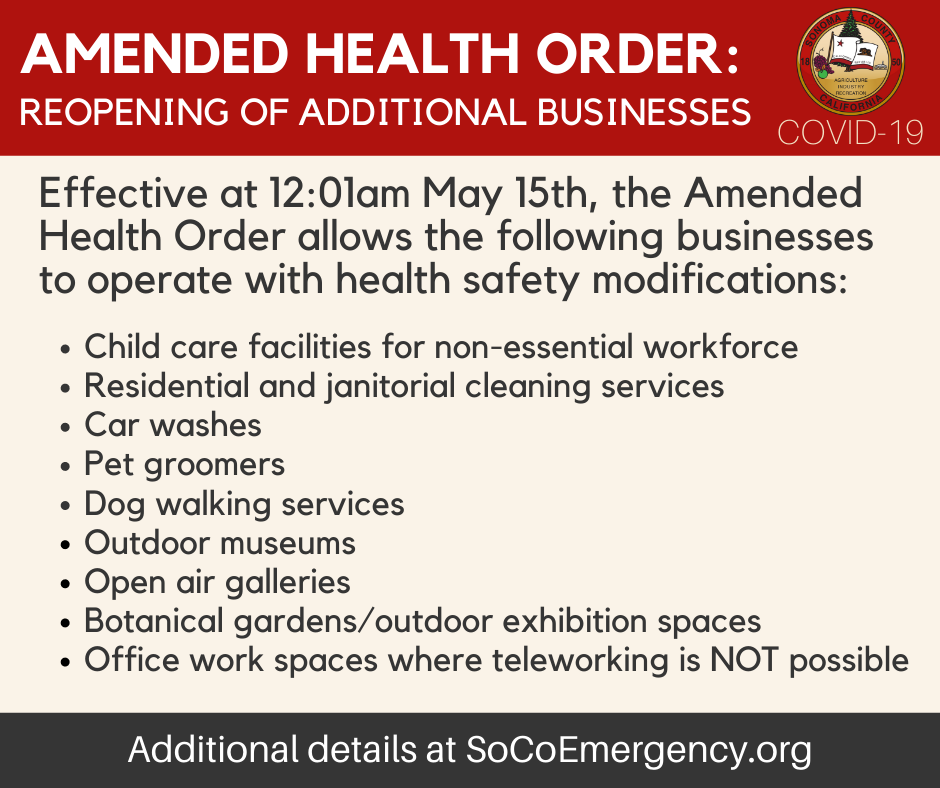 The following is a Press Release from the County of Sonoma – download en Espanol
The Sonoma County Health Officer today amended the Shelter-in-Place Health Order allowing the reopening of additional businesses, effective at 12:01 a.m. on Friday, May 15, 2020.
On May 12, Gov. Gavin Newsom announced that additional businesses could operate statewide with health safety modifications. The amendment to the local Health Order implements this statewide reopening locally and allows businesses to reopen to the maximum extent possible at this time.
Under the amended Order, the following businesses are allowed to operate and people are permitted to leave home and travel to work in or patronize:
car washes
pet groomers
dog walking services
residential and janitorial cleaning services
outdoor museums
open-air galleries
botanical gardens
and other outdoor exhibition spaces
The amended Order also allows activities in office workspaces where teleworking is not possible. Office workspaces shall not be open to the public. Office activities cannot convert from telework to in-person.
The amendment allows childcare facilities to open to those outside the essential workforce, following the strict protocols from the May 1, 2020 Health Order.
The order specifically lists businesses that must remain closed: outdoor restaurants, cafes, or bars, zoos, amusement parks, indoor gallery and museum spaces and does not apply to personal care services that have close customer contact, including hair salons, barbershops, nail salons, massage parlors, aestheticians and cosmetology, ear-piercing salons, and tattoo parlors.
Retail sales by curbside pickup, delivery, or shipping is allowed from shopping malls, strip malls, and outlets.  All storefront and indoor mall access remains closed to the public.
All businesses covered under this Order must plan, develop, post and implement their social distancing, face-covering and worker/consumer safety protocols. Details pertaining to these protocols are in Appendix A of the May 1, 2020 Health Order C19-09 that can be found here: https://socoemergency.org/wp-content/uploads/2020/05/Appendix-A_05-01-2020extended.pdf
The Sonoma County Economic Development Board has a new website at sonomaedb.org/Business-Assistance/Coronavirus/Business-Management-Plans/ featuring resources for businesses to safely and successfully re-open, in accordance with Public Health Orders. The website is aimed to help business owners understand at what point they may be able to re-open for consumers amidst the four phases outlined by the State of California.
The Governor's industry-specific guidance for reopening can be found here: https://covid19.ca.gov/roadmap/.
For more information about the Public Health Order, essential businesses, available County services, or updates regarding the public health emergency, please visitwww.SoCoEmergency.org. Residents may also call 2-1-1 or text their zip code to 898-211 in order to text with a 2-1-1 operator. Additional updates are available on County of Sonoma (@countyofsonoma) social media.