Lee esta información en español.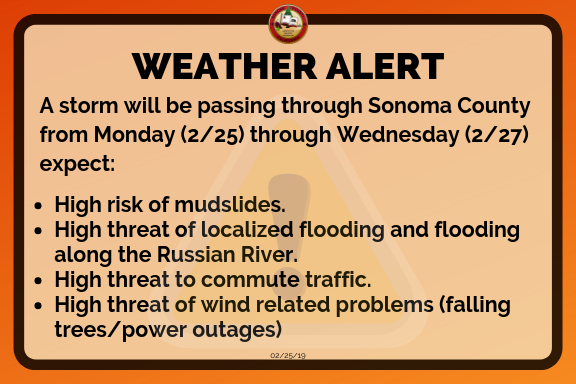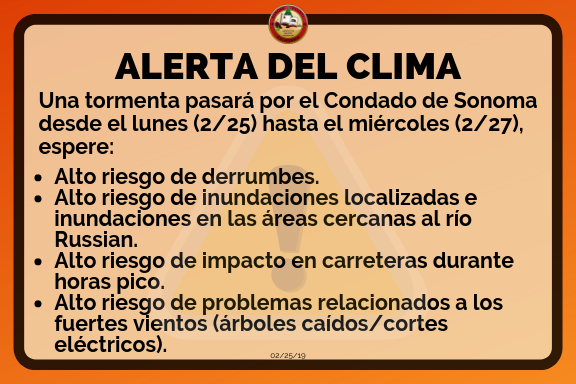 The National Weather Service has issued several alerts due to the strong winter storm forecasted to pass over Sonoma County today through Wednesday night, February 27, 2019. With the forecasted wind and rain, there is a significant risk for Russian River flooding, flash floods and mudslides across Sonoma County, including the areas that burned in the October 2017 wildfires. Due to the forecasted increased risks, Sonoma County will activate its Emergency Operations Center (EOC) beginning at 8:00 A.M. tomorrow, Tuesday, February 26, 2019.
"This is the time to locate your emergency kits and review your evacuation plans with your family," stated Chair of the Board of Supervisors, David Rabbitt. "Watch out for any land movement, observe road closures, and do not drive through flooded roads."
The National Weather Service has issued the following:
Flood Watch
Wind Advisory
For more information, visit the National Weather Service.
California Nevada River Forecast Center: The California Nevada River Forecast Center predicts that the Russian River will hit flood stage (32') at approximately 2:00 A.M. Wednesday morning and will crest at about 38.6 feet Wednesday evening in Guerneville, you can view updated forecasts on their website.
Prepare for:
High risk of mudslides (Due to soil saturation, we may begin to see slippages across the County, including the Burn Scar Area.)
 High threat of localized flooding and flooding along the Russian River.
 High threat to commute traffic.
High threat of wind-related problems including falling trees and/or power outages.
Evacuation and Shelter Information
If public safety officials activate the alert and warning system, all evacuation and shelter information will be posted to: SoCoEmergency.org.
Road Closures
Drivers are encouraged to observe road closures and use detour routes. Road closures and restrictions information for the unincorporated areas can be found at roadconditions.sonoma- county.org. Please call Transportation and Public Works at (707) 565-5100 to report a road obstruction from 8 a.m. to 5 p.m., and the Sheriff's Office at (707) 565-2121 after hours.
Power Outages
PG&E is actively monitoring and repairing power outages. Information about outages may be found at pge.com/#outages.
Regional Parks
Regional Parks may close some parks to protect the safety of park goers and employees. For the list of impacted parks and trails, please visit parks.sonomacounty.ca.gov.
County Schools
The Sonoma County Office of Education maintains a list of all school closures on its website. For a complete list of school closures please visit scoe.org/storm-update.html
SoCoAlert
Residents and businesses are encouraged to sign up for SoCoAlert to receive local emergency alerts and warnings. Emergency officials use the SoCoAlert Emergency Notification System to deliver incident-specific information or life-saving instructions to the precise geographic areas. To register, please go to SoCoAlert.com.
Additional Information
For additional information, visit socoemergency.org/ or call 2-1-1. The County will post pertinent information on Facebook: facebook.com/SonomaCountyCal/ ; and Twitter: twitter.com/CountyofSonoma.
Flood Safety Tips:
Monitor local media, sign up for alerts.
Turn Around, Don't Drown!
Avoid walking or driving through flood waters.
Just 6 inches of moving water can knock you down, 1 foot can sweep away a small car,
and 2 feet of water can carry away most vehicles.
If there is a chance of flash flooding, move immediately to higher ground.
If floodwaters rise around your car but the water is not moving, abandon the car and move to higher ground. Remain in the car if the water is moving.
Avoid camping or parking along streams, rivers, and creeks during heavy rainfall. These areas can flood quickly and with little warning.
Don't touch or go near fallen or dangling power lines. Call 911.
Always assume that a fallen power line is live, and follow these guidelines:
Avoid touching the downed line — with your hand or an object, such as a stick, or broom.
Avoid touching anything in contact with a fallen power line, such as a car, object or equipment, or person.
Avoid driving over a fallen power line.
Call 911 immediately to report a fallen power line.
If a power line touches your car, stay inside your car. Call 911 and wait for emergency help.