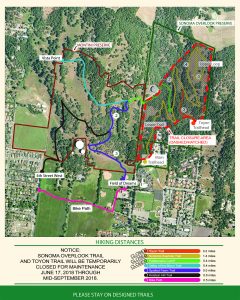 The extensive rehabilitation project to make a more sustainable Sonoma Overlook Trail is set to begin June 17, 2018, during which time the trail will be closed to the public until mid-September 2018. See a map of the closure area and a detailed trail map of the neighboring Montini Preserve hiking trails.
The public is invited to join the City of Sonoma, Sonoma Overlook Trail Stewards, Sonoma Ecology Center and the American Conservation Experience Trail Crew as they commemorate the start of the extensive rehabilitation project on the Lower and Upper Overlook Trail on Wednesday, June 20, 2018 at 1:00 pm at the Sonoma Overlook Trail Kiosk.
The celebration will include an overview and history of the project, groundbreaking ceremony and light refreshments. The Sonoma Overlook Trail Kiosk is located just outside the  gates to the Sonoma Mountain Cemetery, 2 blocks north of the Sonoma Plaza.
For more information about the rehabilitation project and updates on progress, please visit the City's project page, or overlookmontini.org.
During closure, SOT Stewards suggest these nearby alternatives:
SaveSave
SaveSave
SaveSave