The Sonoma Overlook Trail Stewards have reported that the Sonoma Overlook Trail Reroute and Rehabilitation project is now 50% complete.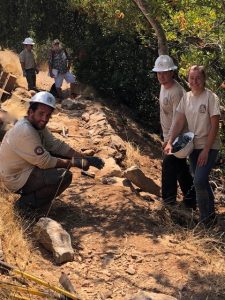 The American Conservation Experience (ACE) crew members are using a variety of trail techniques to shed water off the trail to slow erosion and to cover some of the exposed bedrock. The crew has constructed a new reroute on a segment of the lower trail and have built rock swales and small retaining walls to direct water off the trail.  In addition, the portion of degraded trail that is being rerouted is now being restored to a natural state.
Remaining work includes: building a series of stone steps to address grade changes that have accelerated erosion and exposed bedrock; finishing swales; constructing small retaining walls; and removing berm (raised soil and vegetation on the edges of the trail) that inhibit natural hydraulic flow.
The extensive rehabilitation project to make a more sustainable Sonoma Overlook Trail began June 17, 2018.  The Sonoma Overlook Trail continues to be closed to the public during the Reroute and Rehabilitation project. See a map of the closure area and a detailed trail map of the neighboring Montini Preserve hiking trails.
For more information about the rehabilitation project and updates on progress, please visit the City's project page, or overlookmontini.org.
During closure, SOT Stewards suggest these nearby alternatives: