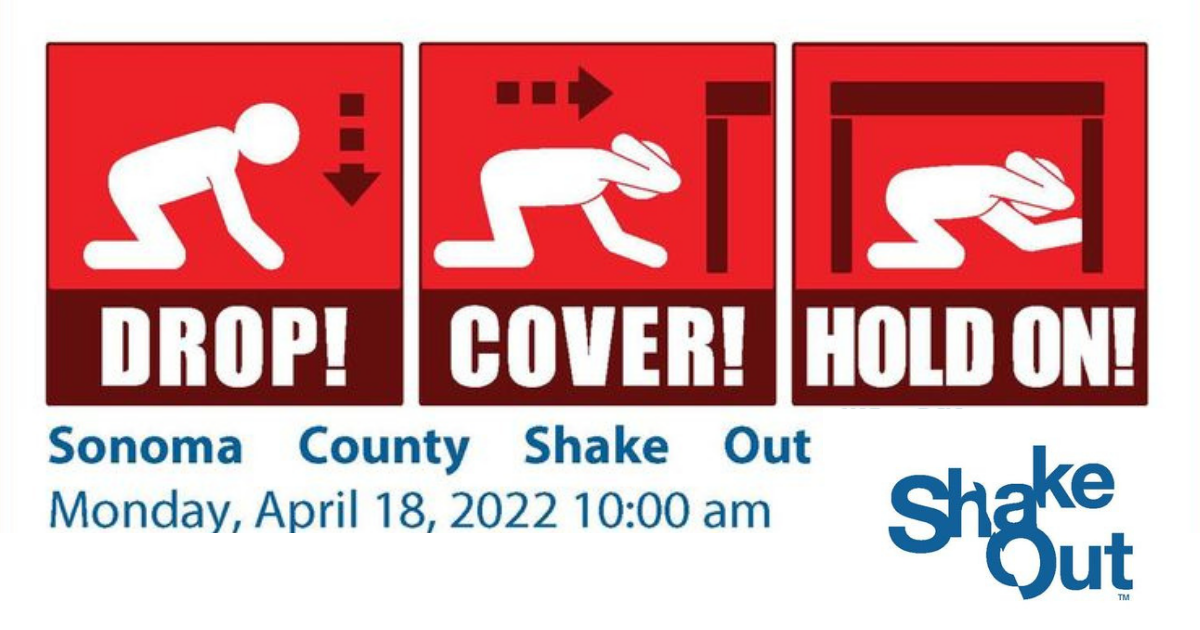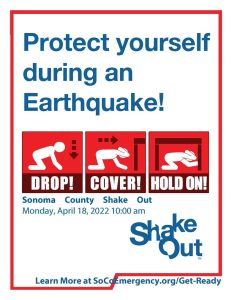 Sonoma County residents are encouraged to take part in the Sonoma County Shake Out drill to be held on April 18 at 10 a.m., an annual exercise during national earthquake preparedness month. The drill will provide the community an opportunity to practice drop-cover-hold-on, which is the recommended action to stay safe when an earthquake hits.
The county is partnering with local nonprofits to remind residents of the steps to take to protect themselves and their families during a quake. April 18 also marks the 116th anniversary of the 1906 San Francisco earthquake, one of the most destructive earthquakes in modern history.
An earthquake can strike without warning, any time of year, day or night. Everyone needs a preparedness plan, what to do when the ground starts to shake, and how to respond including helping neighbors, families, and friends in the time immediately following a temblor. Preparedness tips to help prepare for an earthquake include:
Practice drop-cover-hold protections with family and neighbors.
Secure or store heavy items around the home and keep breakable items on low shelves.
Create a family emergency communications plan to know how to contact one another if the phone lines are down or other unknown variables.
Consider an earthquake insurance policy whether you own or rent
Build a seven-day emergency kit for your family and pets
If you live near the coast, learn about tsunamis at socoemergency.org/get-ready/local-hazards/tsunami/
For more information about the Sonoma County Shake Out drill visit socoemergency.org/get-ready/events-exercises/.
To learn more about earthquake preparedness visit: socoemergency.org/get-ready/local-hazards/earthquake/.