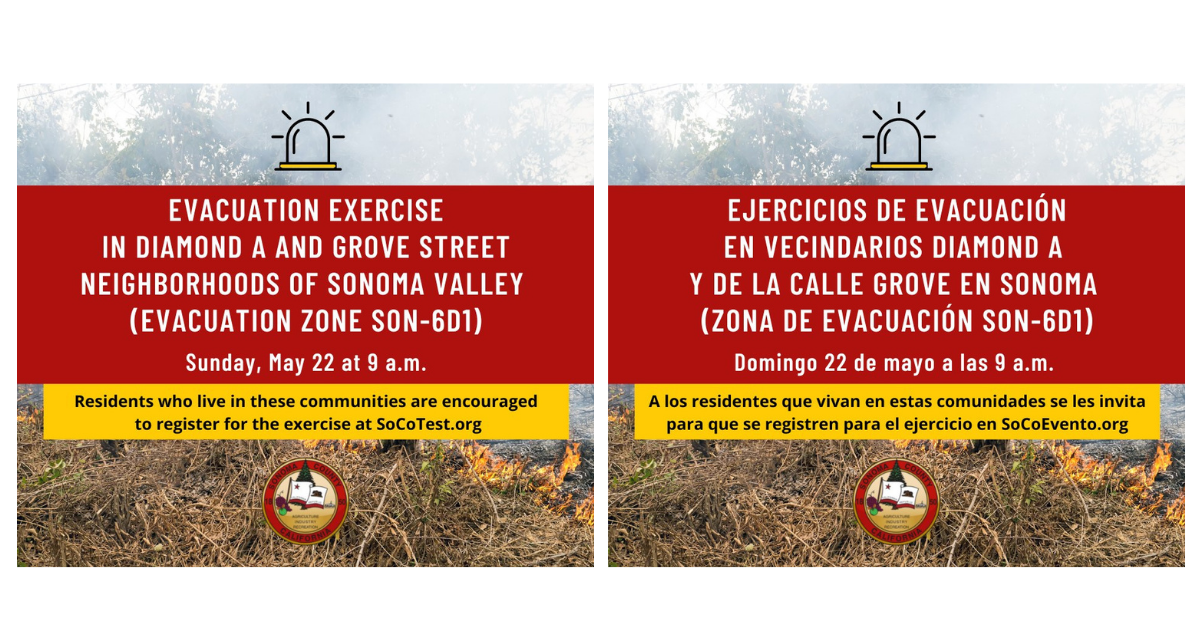 The Sonoma County Department of Emergency Management, in partnership with community preparedness groups, will be holding an evacuation exercise on Sunday, May 22 at 9 a.m. in the Diamond A and Grove Street neighborhoods of Sonoma Valley (evacuation zone 6D1). Participating residents will evacuate to Sonoma Valley High School at 20000 Broadway in the City of Sonoma.
Residents who live in these neighborhoods are encouraged to register for the exercise at SoCoTest.org and to receive the alert at the start of the exercise. Hi-lo sirens will also be audible throughout the exercise areas to alert residents to evacuate at that time. Residents do not need to bring pets or animals with them.
At the evacuation meeting location at Sonoma Valley High School, there will be a resource fair with emergency partners providing information to prepare homes, families, and pets in the event of a real emergency. A survey of residents who participated in the evacuation exercise will be conducted and help the exercise coordinators learn what worked and identify areas for improvement for future exercises.
The evacuation exercise is planned by the Sonoma County Department of Emergency Management, Sheriff's Office, County Administrator's Office, Transportation & Public Works, Regional Parks, and the Human Services Department. Also participating in the planning is Cal Fire Sonoma-Lake-Napa Unit, local fire councils, City of Sonoma, Halter Project, Sonoma Valley Fire District, Cazadero Fire Department, Fort Ross Volunteer Fire Department, Monte Rio Fire Protection District, California Highway Patrol, and the American Red Cross.
It is important to identify official sources of information now so that during an emergency all members of the community have direct access to accurate and timely facts. Visit www.SoCoEmergency.org/Official-Information to view a list of local sources of official information.
Register to participate in these drills and learn more about evacuation exercises at www.SoCoTest.org.