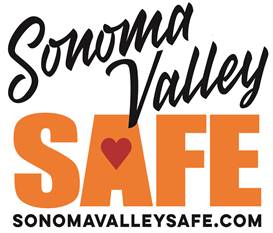 Sonoma Valley Vintners & Growers Alliance, Sonoma Valley Chamber,  and the Sonoma Valley Visitors Bureau have rolled out Sonoma Valley Safe to support local businesses in taking the necessary steps to follow safety and health guidelines, as well as communicate to customers and the community that Sonoma Valley is committed to maintaining the highest safety standards to protect the health and welfare of employees, guests, and our community while providing world-class hospitality.
Sonoma Valley Safe incorporates directives and best practices from the California Department of Health, Sonoma County Economic Development Board as well as industry-specific organizations to operational changes that include physical layout, cleaning protocols, employee training, necessary supplies and other programs.  Sonoma Valley Safe includes communications of Business Mitigation Checklists; Best Management Practices specifically for wineries, restaurants, hotels, and retail; and a Business Self-Certification Assessment.
Upon completion of the Sonoma Valley Safe Self-Certification Assessment, businesses will take the next step to reopening which includes customer-facing signage to communicate guest expectations for masks and spacing as well as identifying the business as participating in Sonoma Valley Safe. The exact dates when businesses can reopen will follow the guidelines from local government. Sonoma Valley Safe prepares the business and provides signs and graphics for them to use when that time comes.
All Sonoma Valley Safe certified businesses will be listed on www.SonomaValleySafe.com.