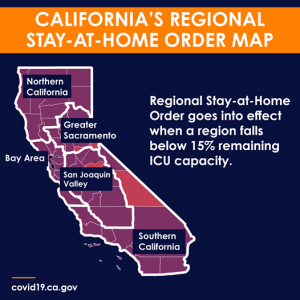 The State announced a new Regional Stay Home Order on December 3, 2020, that will go into effect within 24 hours in regions with less than 15% ICU availability. It prohibits private gatherings of any size, closes sector operations except for critical infrastructure and retail, and requires 100% masking and physical distancing in all others.
The order will remain in effect for at least 3 weeks and, after that period, will be lifted when a region's projected ICU capacity meets or exceeds 15%. This will be assessed on a weekly basis after the initial 3 week period. Learn more about this order.
Sonoma County is part of the Bay Area region, which has the highest ICU capacity in the state. If trends continue, the state projects ICU capacity in our region to fall below 15 percent in mid to late December. The rest of the state will most likely trigger these restrictions in early December.
While the Bay Area's regional ICU capacity is currently at 25.4% (as of Friday 12/4), Health Officers for the Counties of Alameda, Contra Costa, Marin, San Francisco, and Santa Clara, as well as the City of Berkeley, jointly announced today that they will voluntarily implement the State's Regional Stay Home Order as early as Sunday, December 6th.
Sonoma County is not planning on joining these five Bay Area counties in voluntarily adopting the state's Stay-at-Home order at this time. They continue to track the situation closely and are leaving open the option of joining the other counties if the need arises. Find more County COVID-19 information, data and statistics at socoemergency.org.