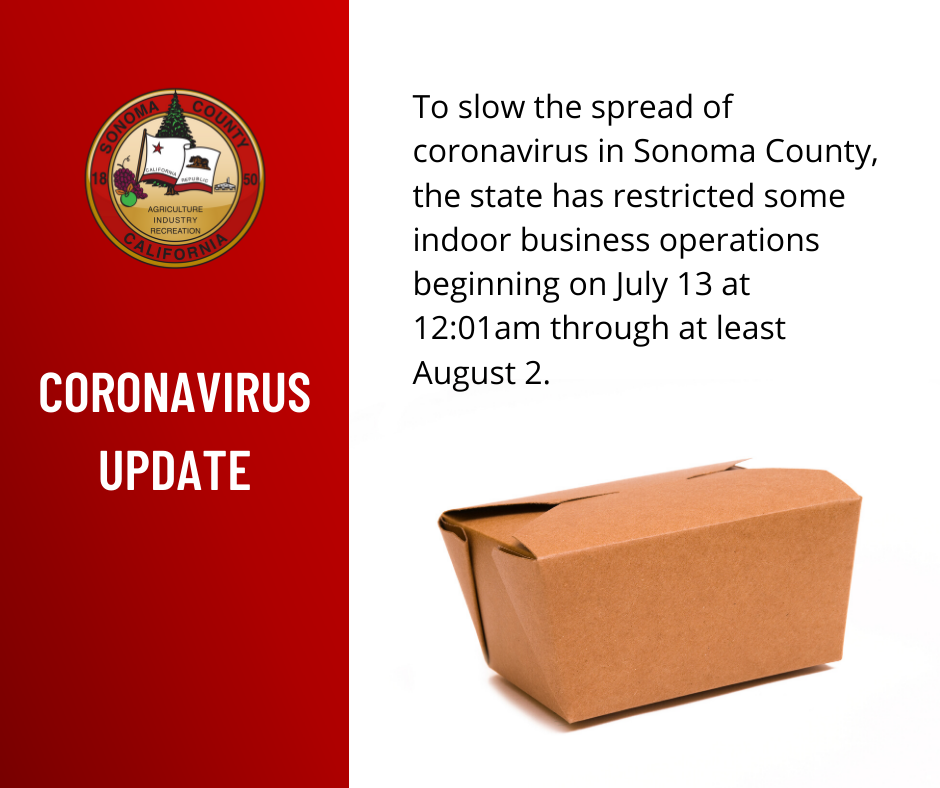 The following is a press release from the County of Sonoma  –  En español
The state Department of Public Health has ordered new restrictions on bars, restaurants and other indoor business operations in Sonoma County as part of statewide actions to slow the increased spread of the coronavirus. The restrictions will take effect at 12:01 a.m. on Monday, July 13 and will remain in place until the state takes further action, which will be no earlier than Aug. 2.
Similar to the restrictive actions taken by the state in other California counties, the state health order prohibits indoor activities that bring residents into prolonged contact with people who are not members of their own household. These gatherings have been identified as helping spread the coronavirus.
The following business types will not be allowed to operate indoor activities:
●       Restaurants
●       Wineries/tasting rooms
●       Bars, Clubs, breweries, brewpubs and distilleries
●       Movie theaters
●       Family entertainment centers (for example: bowling alleys and arcades)
●       Zoos and museums
●       Card rooms
The state order permits affected businesses to offer limited outside services:
●       Outdoor dining and take-out service.
●       Wineries and tasting rooms may operate outdoors without being required to serve food.
●       Bars, clubs, breweries, brewpubs and distilleries may serve alcohol outdoors, but only in the same transaction as a meal.
The state order came after the number of coronavirus data did not improve during a 72-hour monitoring period, which ended Sunday. Sonoma County Public Health Officer Dr. Sundari Mase notes that the rate of infections per 100,000 residents has increased six-fold, from 20 cases in early June to more than 120 on July 12.
"This new order by the state does not come as a surprise given the rapid escalation of our infection rate and hospitalizations," said Dr. Mase. "This will be one more tool to help us slow the spread in our community."
The state monitors many data points for all counties in order to determine if and when restrictions are needed to slow coronavirus transmission. In the past month, the state had placed some form of restrictions on many California counties, including Sonoma and neighboring Marin and Napa counties.
For more information about the current public health order, business and other restrictions and how to keep you and your family safe and healthy, visit https://socoemergency.org/novel-coronavirus.
You can find the State Health Order here:
https://www.cdph.ca.gov/Programs/CID/DCDC/CDPH%20Document%20Library/COVID-19/State_Health_Officer_Order_Sonoma_County_7.12.20.pdf.