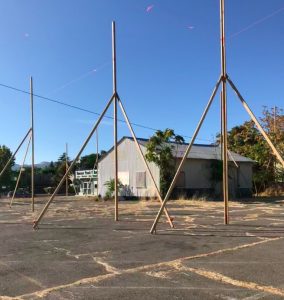 Story Poles remaining up through Monday, October 1
The  story poles for Gateway will be remaining up through Monday's appeal hearing at the City Council meeting.  The City Council can provide further direction regarding story poles at the meeting.
————————–
Storey Poles have been installed at the Gateway project site and will be available for viewing through October 1, 2018.
The purpose of the poles is to depict the location and footprint of the proposed buildings, and ultimate height, to provide the public with visual information regarding the proposed project.  The eave level of each proposed building is marked with string and flags.  The portion of the pole above the string demonstrates the highest point expected from the pitch of the roof of each structure.    All buildings would be 30-feet in height or less.  For context, the existing barn building is 29-feet in height.
See the Storey Pole Plan for the Gateway Project Site.  For more information about this project, please visit the City's Gateway Mixed-Use Project page.