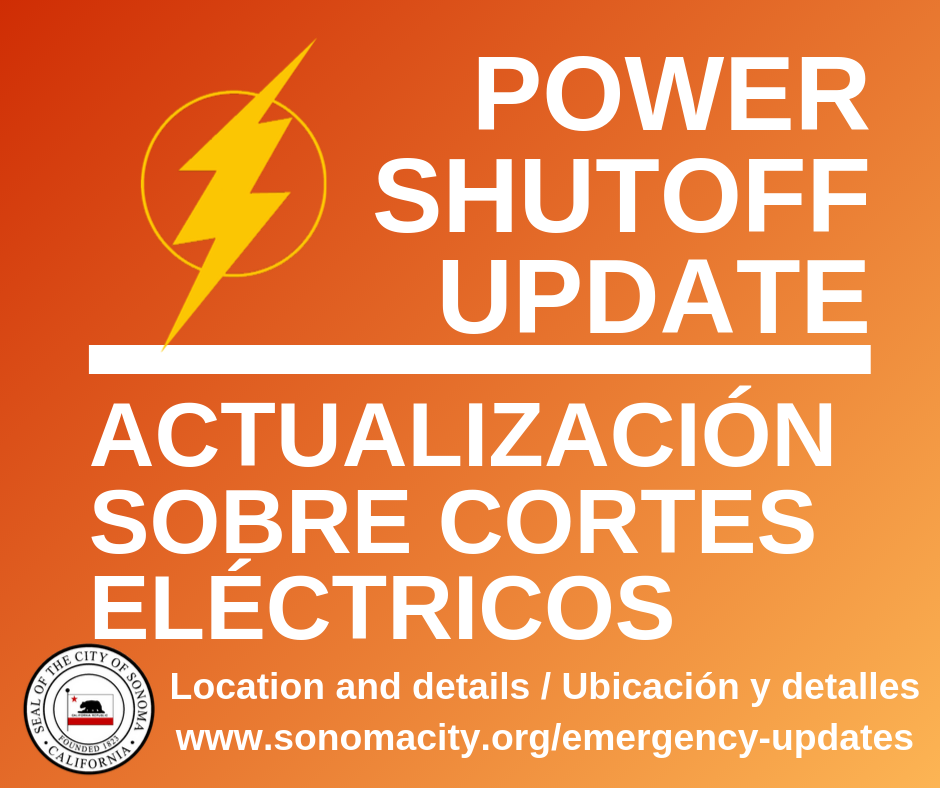 The National Weather Service issued a Red Flag Warning for Sonoma County in effect from 8:00 PM Saturday, October, 26th to 11:00 AM, Monday, October 28th due to dangerously strong winds. Extreme fire conditions are in effect with strong north to northeast winds and low humidity through much of Sunday, Oct. 27. Conditions can result in erratic behavior for the Kincade fire. Any new fires have the potential to spread rapidly.
Due to these conditions, PG&E proactively shut off power to parts of the City of Sonoma (City) and Sonoma Valley beginning at 5:00 PM on Saturday, October 26th and is expected to remain off in affected areas through Monday, October 28th. The City of Sonoma has been minimally impacted by the power shutoff. For updates, view PG&E's restoration map or call PG&E at 800-743-5002.
Updates from the City of Sonoma:
Please refrain from calling the dispatch number for roadway debris removal please call the City of Sonoma Public Works Department 707-938-3332.
Stage Gulch Road is open to traffic. Stage Gulch near Arnold Drive was temporarily closed due to an 18-acre grass fire earlier this morning that has been fully contained.
The Sonoma Plaza Park will be closed today, Sunday, October 27th due to down limbs and debris. The City Hall driveway will also be closed on Sunday, and the Sonoma County transit bus stop will relocate from the driveway to Napa Street directly in front of City Hall (near the bell). The Visitors Center and Carnegie Building restrooms will remain open and accessible from 1st St East. All streets surrounding the Plaza remain open.
While most signals are functioning in Sonoma city limits, drivers are reminded to be vigilant as multiple intersections in Sonoma County are expected to be without power. Public Safety officials urge drivers to reduce speeds, drive with caution and treat al intersections without power as a 4-way stop, per state law.
The Charging Center at the Veterans Memorial Building (126 First St. West) is up and running now, and will remain open until at least 6 PM. Please remember to bring your own cords.
The PG&E Community Resource Center (CRC) at Hanna Boys Center (17000 Arnold Drive) will be open today from 8:00 AM to 8:00 PM. Restrooms, bottled water, electronic-device charging and seating for up to 100 is available.
Residents are asked to minimize water use to help maintain water supply for public health, sanitation and fire protection needs.
For questions about evacuations and resources, call 2-1-1. Do not call 9-1-1 unless you are experiencing an emergency.
For the latest information on the Kincade fire, please see the County of Sonoma fact sheet in English and Spanish.