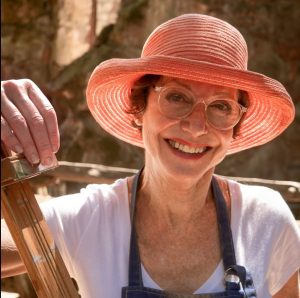 The Cultural and Fine Arts Commission of Sonoma will host a reception to honor local artist Pat Meier-Johnson who was recently named the 2022 Sonoma Treasure Artist of the Year.
Members of the public are invited to attend the event which will be held at 6:30 p.m. Thursday, June 9, 2022, at the Vintage House, 264 First Street East, in Sonoma. Reservations are required.
In selecting Ms. Meier-Johnson, the Commission noted not only her artistic talent, but also her love of community, and generous nature.  The Commission was impressed that Ms. Meier-Johnson has served as an adviser to Teen Services Sonoma on multiple projects including designing their Cowboy Cab logo and finding ways to work directly with the teens.
Also impressive to the Commission was Ms. Meier-Johnson's selfless giving – whether it was submitting a 3' heart that featured a bright yellow sun as part of the #HeartofSonoma, to donating her artwork to help raise funds for people living with HIV/AIDS.
In one of her many nomination letters, one individual said "Pat is most definitely a treasure. Her heart is huge!"
Reservations for the wine and hors d'oeuvres reception will be accepted until 5 p.m. Monday, June 6th, and must be paid in advance. The cost is $30 per person.
Tickets can be purchased online on Eventbrite, or mail payment via check or cash by mail to: City of Sonoma, Attn: City Clerk, No. 1 The Plaza, Sonoma CA 95476.  For additional information, contact City Clerk Rebekah Barr, 933-2216 or Lisa Janson, 933-2220.