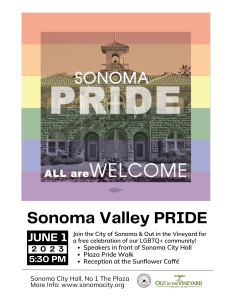 The City of Sonoma in partnership with Out in the Vineyard is pleased to announce its inaugural Sonoma Valley Pride event, an inclusive celebration in honor of Lesbian, Gay, Bisexual, Transgender, and Queer (LGBTQ) Pride month. This free event open to all community members, will take place on June 1, 2023, starting at 5:30 p.m. in front of Sonoma City Hall located at No. 1 The Plaza.
This event will feature speakers in front of the annual Pride flag display at Sonoma City Hall, followed by a pride walk around the Plaza Park and a reception at the Sunflower Caffé (map it).
Speakers Include:
Gary Saperstein, Owner of Out in the Vineyard
Sandra Lowe, Mayor of the City of Sonoma
Laura Beltran, Representative for Assemblymember Cecilia Aguiar-Curry
Brandon Cutting, Chief of Sonoma Police Department
Rabbi Steve Finley, Congregation Shir Shalom
Katrina Phillips, Chair of the Sonoma County Commission on Human Rights
Sonoma Valley Pride is a family-friendly event and welcomes people of all ages, backgrounds, and orientations. There is no cost to participate in or attend the program, walk, or reception.
So, please mark your calendars and join us for Sonoma Valley Pride! Let us stand together, walk together, and celebrate as we continue building a more inclusive and accepting community for all.
GET YOUR SPECIAL EDITION "SONOMA PRIDE" STICKER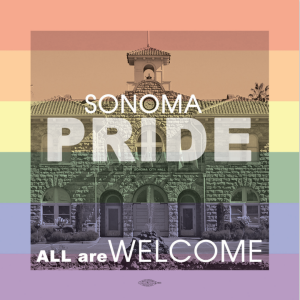 A limited supply of "Sonoma Pride" stickers are available to the public courtesy of Mayor Sandra Lowe who had them designed and printed for the occasion. Pick one up at Sonoma City Hall during business hours, while supplies last!
City of Sonoma, No. 1 The Plaza, Sonoma CA 95476
City Hall Hours:
Monday – Thursday, 8:00 a.m. – 12:00 p.m. & 1:00 p.m. – 5:00 p.m.
Open Fridays by Appointment
(707) 938-3681