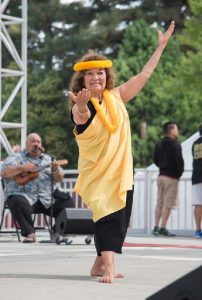 Sonoma's Cultural and Fine Arts Commission is pleased to announce that the Treasure Artist for 2020 is dance teacher and performer Betty Ann Ka'ihilani Bruno, a former Oz munchkin, TV newscaster, and founder of Hula Mai.
In selecting Ms. Bruno, the Commission noted her contributions to the cultural growth of Sonoma Valley through her commitment to sharing her "aloha" spirit.
The Commission was impressed that Ms. Bruno serves as an expert resource to media while teaching hula to individuals of all age groups. She hosts a monthly jam session, or Kanikapilas, at the Women's Club, where everyone is invited to sing, play the ukulele, and dance hula. Ms. Bruno invites artists both locally and from Hawaii to teach students in the Hawaiian arts.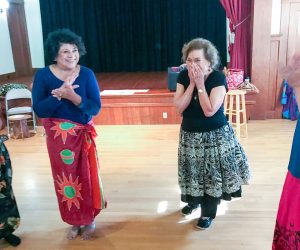 Also impressive to the Commission was Ms. Bruno's selfless giving. Along with her dance troupe Hula Mai, Ms. Bruno puts on nine free shows in The Plaza, sharing the ancient art form of hula.  They also perform monthly at local hospitals and care facilities.
One of the common themes of all the nominations received for Ms. Bruno was how everyone became a member of her "family".
In one of her many nomination letters, one individual said "Betty Ann, who turned 88 years old this month, truly is a treasure. Her warm personality, her friendly inclusiveness, her amazing enthusiasm for all things Hawaiian, her incredible energy and her genuine caring for others makes her a delight to be around." Another said, "She deserves this honor – she's a TRUE treasure!"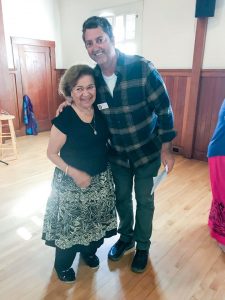 The Commission will host a reception in Ms. Bruno's honor in the near future. Additional information will be published as it becomes available.
For additional information, contact City Clerk Rebekah Barr, 707-933-2216.
Photo of Betty Ann Bruno from the Hula Mai website.