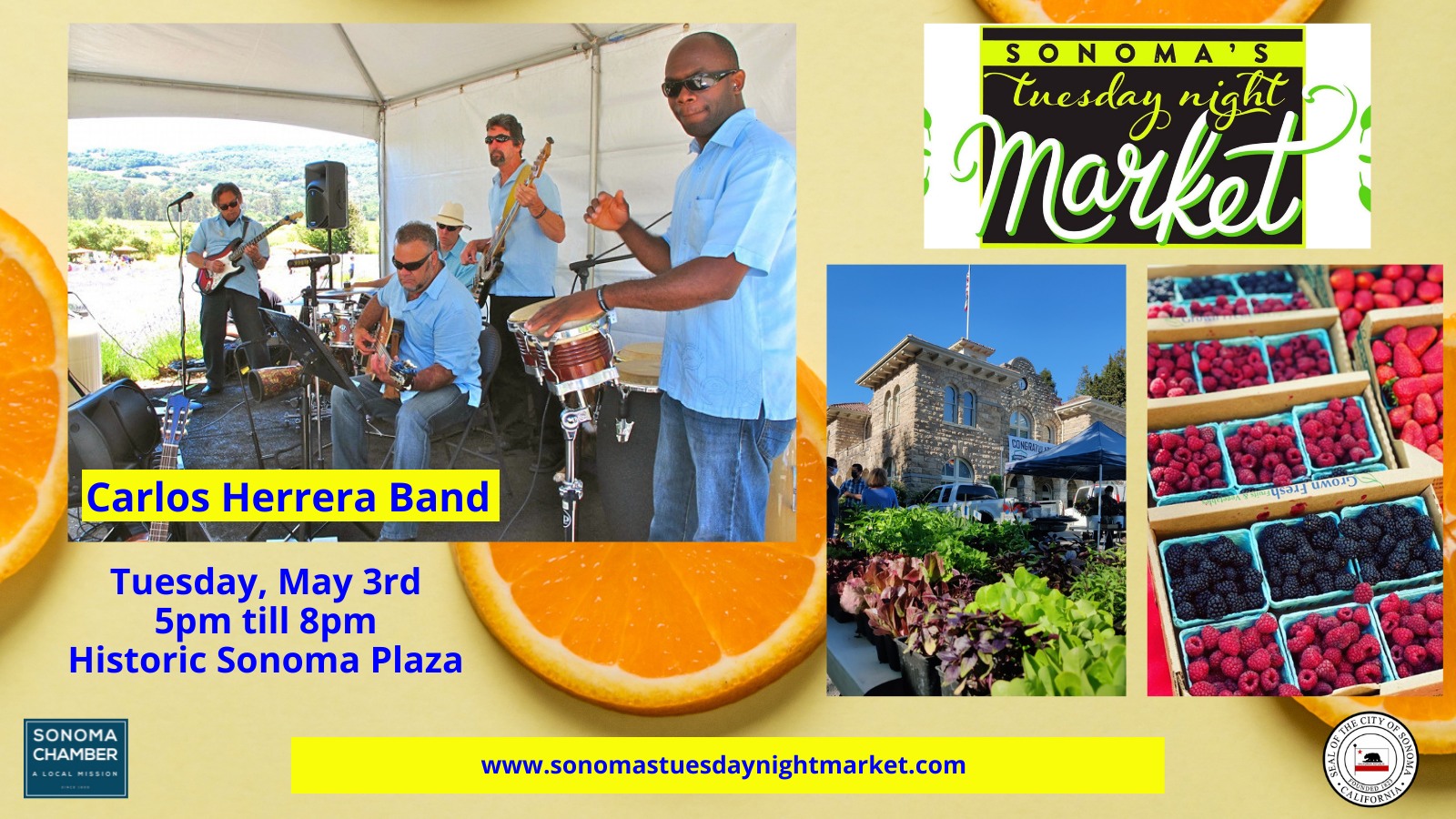 Join Sonoma City Council and Market management as they officially kick off the Sonoma Tuesday Night Market season on Tuesday, May 3rd in the Sonoma Plaza. The opening program begins at 5:00 p.m. and will include welcoming remarks, an overview of what you can look forward to at the market this season, and recognition of the 2022 Earth Day Photography Contest winners. Live music by the Carlos Herrera Band starts at 6:00 pm.
Sonoma's Tuesday Night Market presented by the City of Sonoma in partnership with the Sonoma Valley Chamber of Commerce occurs weekly on Tuesdays, May through September (no market on July 5th). The market is located in the "Horseshoe" in front of Sonoma City Hall from 5:00 pm – 8:00 pm with live music on the horseshoe lawn in front of the fountain beginning at 6:00 p.m. Find an entertainment schedule on the market website.
This year's market will continue to feature farmers and agricultural vendors, packaged food, and artisan vendors and has expanded to include prepared food vendors which were not permitted the past two years due to Covid restrictions. 2022 vendors include:
ARTISANS
KoolGyrl
Jessica Jo Designs
Jungle Maiden Jewelry
Napa Dog
Nomad Botanicals
Popo's Face Painting and Games
Razzle Dazzle Accessories
That's A Wrap, Sonoma!
PREPARED FOODS
Aunt Betty's #2 Gourmet Corn Dogs
Bruschetta Bar
E-SAAN Thai House
El Brinquito Spiral Potato Chips
El Brinquito Mexican Food
Gerard's Paella
Hop Monk Food Truck
Kettle Pop
Java Wagon
Mommy's Yummys
Nellies Oysters
Pacheco Roasted Mexican Street Corn
Sweet Scoops
Tri-Trips Tolley Food Truck
PACKAGED FOODS
Brigachero (Brazilian Truffles)
JUS VERTS
Harvey's Donut Bar
Monday Bakery
Sinful Sweets by Stacy
Sonoma County Meat Company
the Bekjr
The Hummus Guy
Triad Beverages
FARMERS
Esquivel Farms
Hector's Honey
Jesus Cut Flowers/seasonal
Mt Moria Farms/Smit Farms
Neufield Farms
R. Schletewitz Family Farms
Serres Blueberries/seasonal
The Patch
Triple T Ranch & Farm
BEVERAGES
Sonoma Springs Brewing Company
Serres Ranch Bleusé sparkling wine
Sonoma Valley Chamber of Commerce – showcasing local wines
Double Your CalFresh Benefits at the Tuesday Night Market with Market Match
Sonoma's Tuesday Night Market is proud to welcome CalFresh/Electronic Benefit Transfer (EBT) at our market, and thanks to a generous sponsorship by Sonoma Harvest Olive Oil and Winery, customers using EBT will receive a one-to-one match in "Market Match" tokens, which can be used to purchase fresh fruits and vegetables, artisan bread, meats, dairy, seeds, and plants that produce food.
New to the market this year, Market Match is California's healthy food incentive program, which matches customers' federal nutrition assistance benefits at farmers' markets and other farm-direct sites. Spending your CalFresh EBT at the farmers' market is easy! Simply, bring your EBT card to the Information booth, where we will swipe your card and give you EBT tokens, which can be used to make purchases from our farmers, ranchers, cheesemakers, and bakers.
For more information about Sonoma's Tuesday Night Market, please visit www.sonomastuesdaynightmarket.com
Follow Sonoma's Tuesday Night Market on Facebook & Instagram