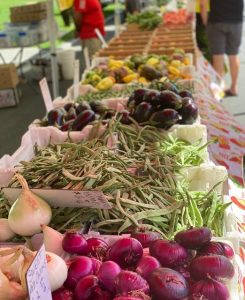 Sonoma's Tuesday Night Market presented by the City of Sonoma in partnership with the Sonoma Valley Chamber of Commerce takes place every Tuesday evening from May through September in the historic Sonoma Plaza.
The main focus of Sonoma's Tuesday Night Market is making fresh, healthy, locally-grown produce from small-scale farmers available to our community.
Find more information at www.sonomastuesdaynightmarket.com
2023 Vendor Applications & Sponsorship Opportunities
Sponsorship Opportunities
Interested in supporting Sonoma's Tuesday Night Market? Consider becoming a sponsor! Find sponsorship opportunities on the STNM website or contact Jerry Wheeler, Market Manager by calling 707-974-0216 or email manager@sonomastuesdaynightmarket.com.
Vendor Applications
Sell your farm's products, packaged foods, prepared foods or hand-made items at Sonoma's Tuesday Night Market! The market advisory board will also take a few food trucks in 2023. Be sure to get your application in early space is limited.
Before you apply to participate in the market please read through the STNM Rules and Regulations.
Non-Profit and "Free Speech" Table Applications
A limited number of non-profit "free speech tables" vendors may be selected to enhance the Market and complement the food and farmer vendors. In evaluating non-profit "free speech tables" vendor applications to STNM, we consider the following criteria: Previous participation, locally-based; certificate of insurance on file with the proper indemnifications, compliance with all applicable local, county and state ordinances and permitting.
Apply Today! 
 If you are a Vendor and would like to participate please follow these simple steps:
Completely fill out the application form.

Enclose your payment! Applications without the $45 application fee will not be considered.  Please make all checks payable to the City of Sonoma. 

Mail or deliver the completed application and payment to:
City of Sonoma
Attn: STNM Market Advisory Committee
No. 1 The Plaza
Sonoma, CA 95476