Events in Sonoma are. . . Special!
Civic celebrations, funky festivals, nonprofit galas... the Sonoma Plaza and Depot Park create an unforgettable backdrop for the memories of a lifetime.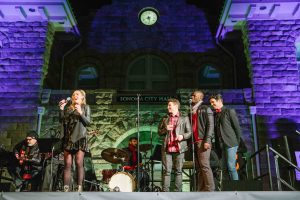 Local favorites include the seasonal Tuesday night Farmers Market and the City Party, while residents are joined by visitors at festivals and holiday celebrations.  See the special events calendar for a list of currently scheduled events, as well as a list of annual events that have a date preference but are not yet shown in the confirmed event calendar.
The Sonoma Plaza and Depot Park are available for rental seven days a week, with restrictions during certain periods of time.  For details, visit our special events planning page.
Be "in the know!" - Subscribe below to receive automatic email updates when Special Event news is posted.